The demand for a revolution in customer loyalty is growing. Discover what impactful problems of today can be solved, and how it's only possible on Solana.
Value proposition of Web3 loyalty
Traditional loyalty programs have long grappled with inherent challenges, often leading to decreased customer participation and underwhelming outcomes. Web3 loyalty programs are part of the answer. We've shed light on the critical pain points that plague existing loyalty and rewards systems before in our article on the concept of a blockchain loyalty program app.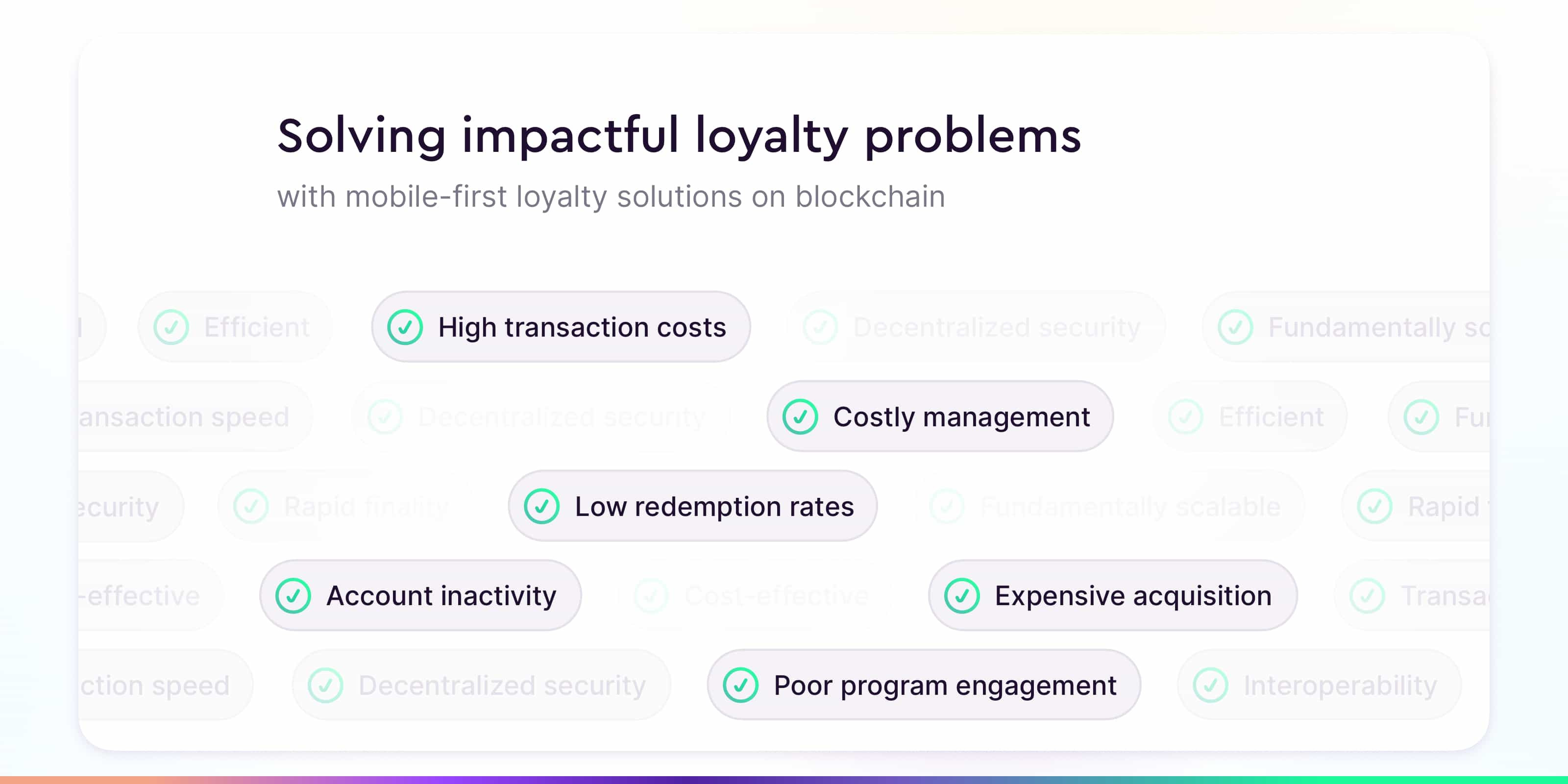 Issues of traditional loyalty programs
The benefits of loyalty programs are undeniable, but there are some negatives as well. For businesses that run loyalty programs, customer inactivity is a common issue. Unclaimed rewards are liabilities on a company's balance sheet. Essentially, companies with a lot of outstanding loyalty rewards have a lot of outstanding debt. That's arguably the most important issue. Here are the most impactful problems of traditional loyalty programs:
☑️ High transaction costs

☑️ Costly system management

☑️ Overall account inactivity

☑️ Low redemption rates

☑️ Expensive customer acquisition

☑️ Poor program engagement
How a mobile blockchain solution solves these issues
The emergence of blockchain technology has presented a transformative solution to the constraints of conventional loyalty programs. Here's how it tackles each of the identified issues when combined with a mobile solution:
High transaction costs
Traditional transactional systems are inefficient and time-consuming. They are sensitive to human error, and there are often multiple intermediaries involved. By leveraging blockchain technology, a mobile blockchain solution can significantly reduce transaction costs when using the right blockchain. Especially with loyalty programs, since there will be frequent micro-transactions. Blockchain ensures cost-effective and efficient reward distribution and redemption.
Costly system management
With the app's underlying loyalty system being of a decentralized nature, it allows for automated administration and self-executing smart contracts and reduces the need for extensive manual oversight and management. This simplifies the overall system management process, minimizing administrative costs.
"Meet customers where they are. Consumers are likely spending more and more time online and on digital platforms, which is where web3 thrives" - PwC
Overall account inactivity
Research labels the lack of uniform loyalty systems as a key problem for inactivity. The use of different systems for loyalty programs is confusing. Offering a variety of loyalty programs in the same environment, and using similar systems, makes it a lot easier for consumers and lowers the barrier to participating in more programs. A mobile app with performance-driven, and user-friendly features facilitates seamless and engaging user experiences, encouraging active participation.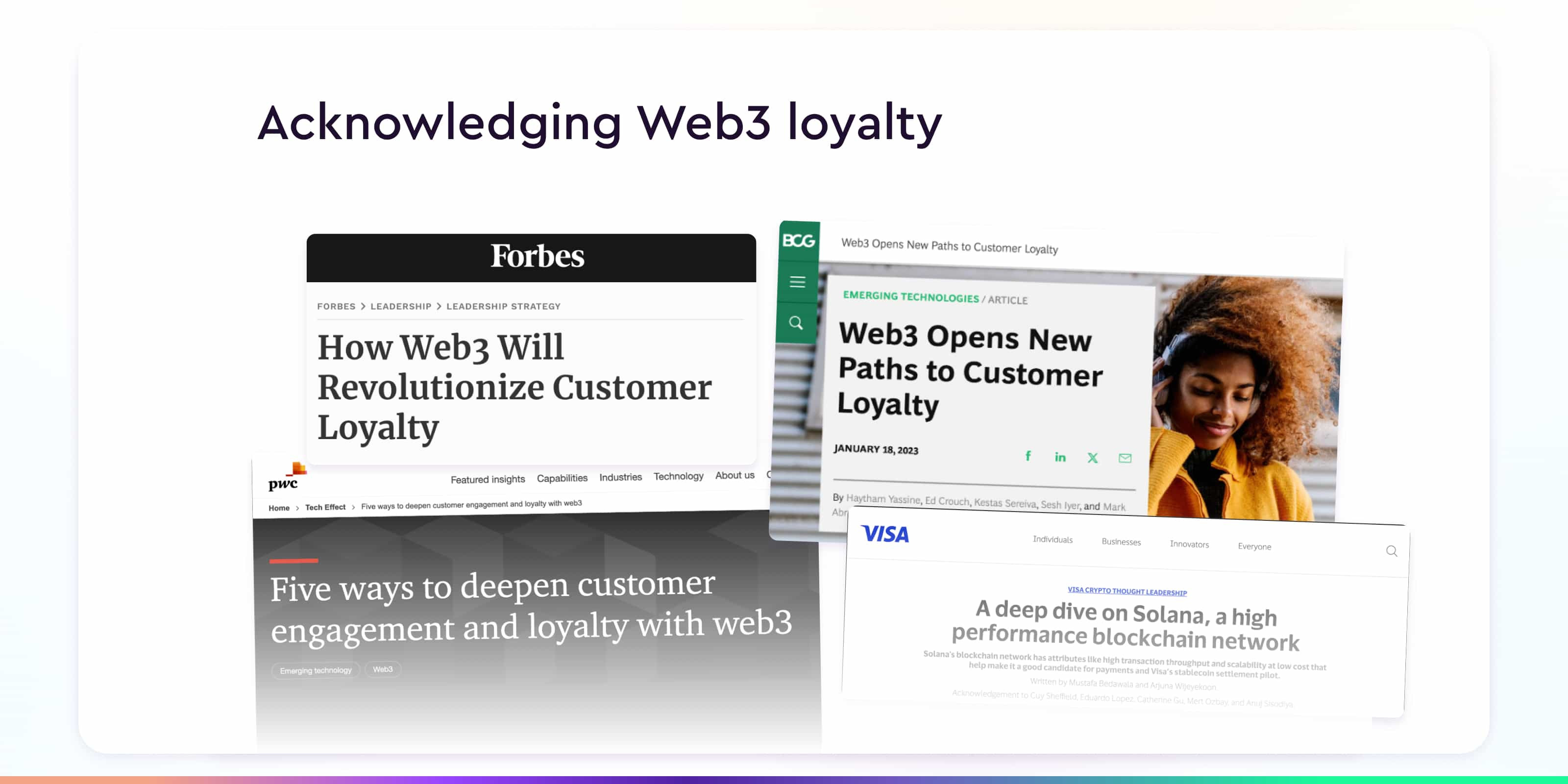 Industry leaders are acknowledging the potential of Web3 for revolutionizing customer loyalty

Low redemption rates
Blockchain loyalty rewards are verified on the blockchain network. Because it's a verified currency, the loyalty points represent more perceived value for consumers, increasing the chances for improved redemption rates. Leveraging blockchain's secure and transparent infrastructure, hosts of a program have an enhanced view of where the rewards have gone. This allows them to retarget the exact audience segments that haven't spent their rewards yet, for example through e-mail notifications. Learn more about customer loyalty analytics in the era of blockchain.
Expensive customer acquisition
People nowadays are primarily active on mobile devices; on social media and in apps, so that's where they should be reached and captivated. Enhanced user engagement features like personalized offers, and interactive content create a more compelling and immersive loyalty program experience, effectively reducing the cost of customer acquisition through increased customer retention and engagement.
Poor program engagement
Mobile activity consists of constant interaction from the user with the applications. By incentivizing engagement using the unique interact-to-earn rewards system, more positive touchpoints are created and rewards are distributed efficiently. Combine this feature with a single wallet platform and seamless omnichannel marketing functionalities - and this issue can definitely be resolved.

Visa recognizes the potential of digital currency for a globally accessible payment infrastructure that enables cross-border payment seamlessly. Utilizing a blockchain infrastructure is critical for this concept to work. Solana has been chosen as the best option to make it happen" - Visa's Solana & USDC pilot
Only possible on Solana
While the concept of blockchain technology theoretically solves each of the issues previously stated, making this theory become a reality is easier said than done. Not every blockchain fits the right profile.
Revolutionizing the customer loyalty industry is only possible on Solana due to several key advantages and unique features that the Solana blockchain offers, setting it apart from other blockchain platforms.
"While Solana Pay introduces a decentralized payment protocol, there's a missing piece to be observed in accomplishing large-scale consumer adoption. They recognize the demand for a loyalty solution that makes their innovations easily accessible for every consumer - and are counting on their ecosystem of projects to deliver" - Solana Pay & Shopify
From theory to reality
Solana stands out as a premier blockchain platform with a comprehensive range of cutting-edge features and capabilities that drive its exceptional performance and global appeal.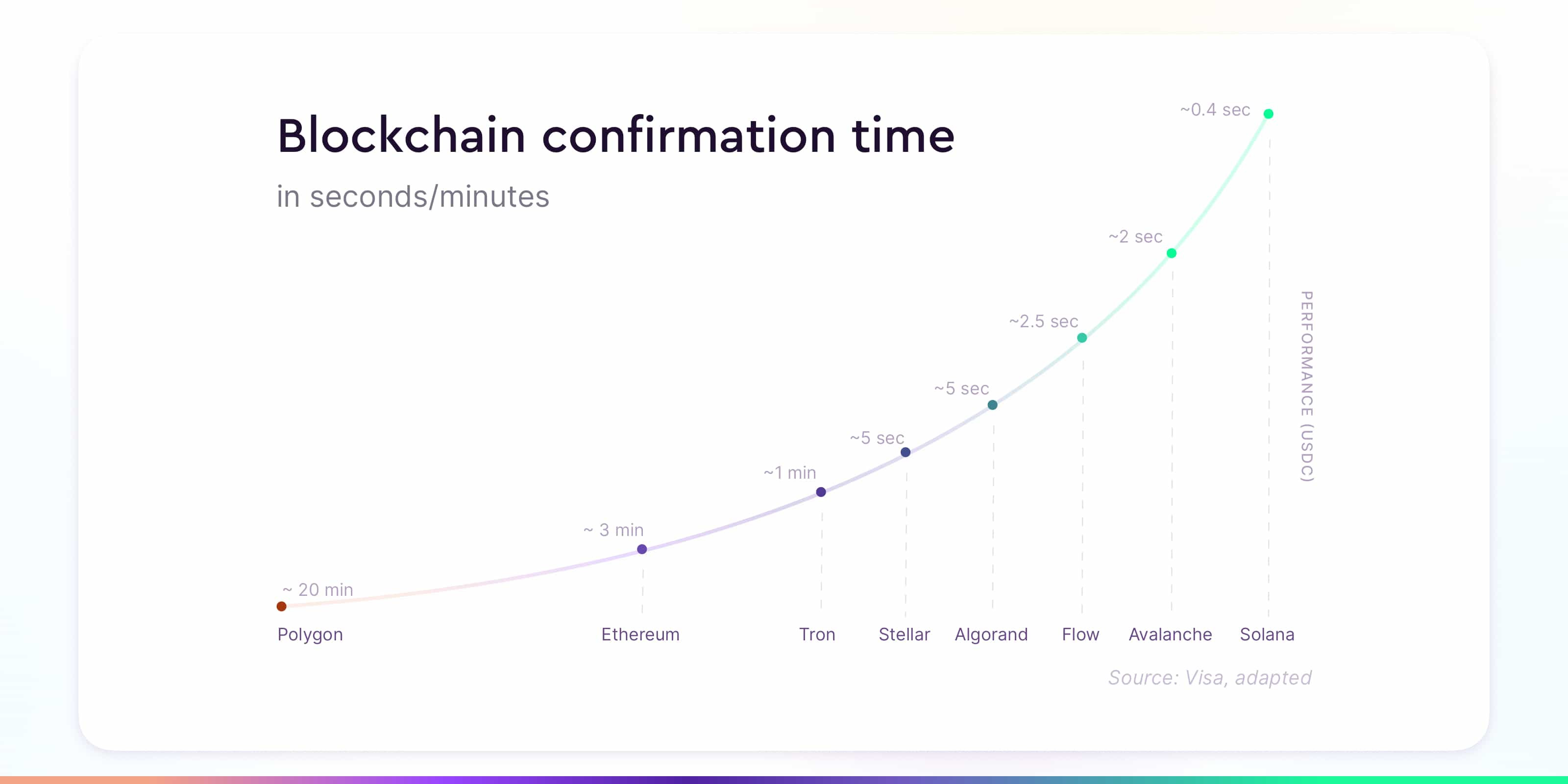 Other key attributes that define Solana's unparalleled value proposition include:
Transaction speed
Solana's remarkable transaction speed ensures near-instantaneous processing, facilitating efficient and seamless user experiences, and enabling real-time settlements.
Decentralized security
Solana's decentralized architecture guarantees data security and transparency, fostering trust among users and mitigating concerns related to data manipulation and unauthorized access.
Fundamentally scalable
Solana's proven ability to handle substantial transaction volumes without compromising network efficiency highlights its scalability, making it a reliable choice for high-demand applications like loyalty programs.
Efficient and sustainable
With energy consumption equivalent to just a few online searches per transaction, Solana demonstrates a commitment to eco-friendly practices, aligning with sustainable business operations.
Rapid finality
Solana's efficient transaction processing ensures quick finality, reducing settlement times and complexities, and enhancing user experiences through secure and timely payment confirmations.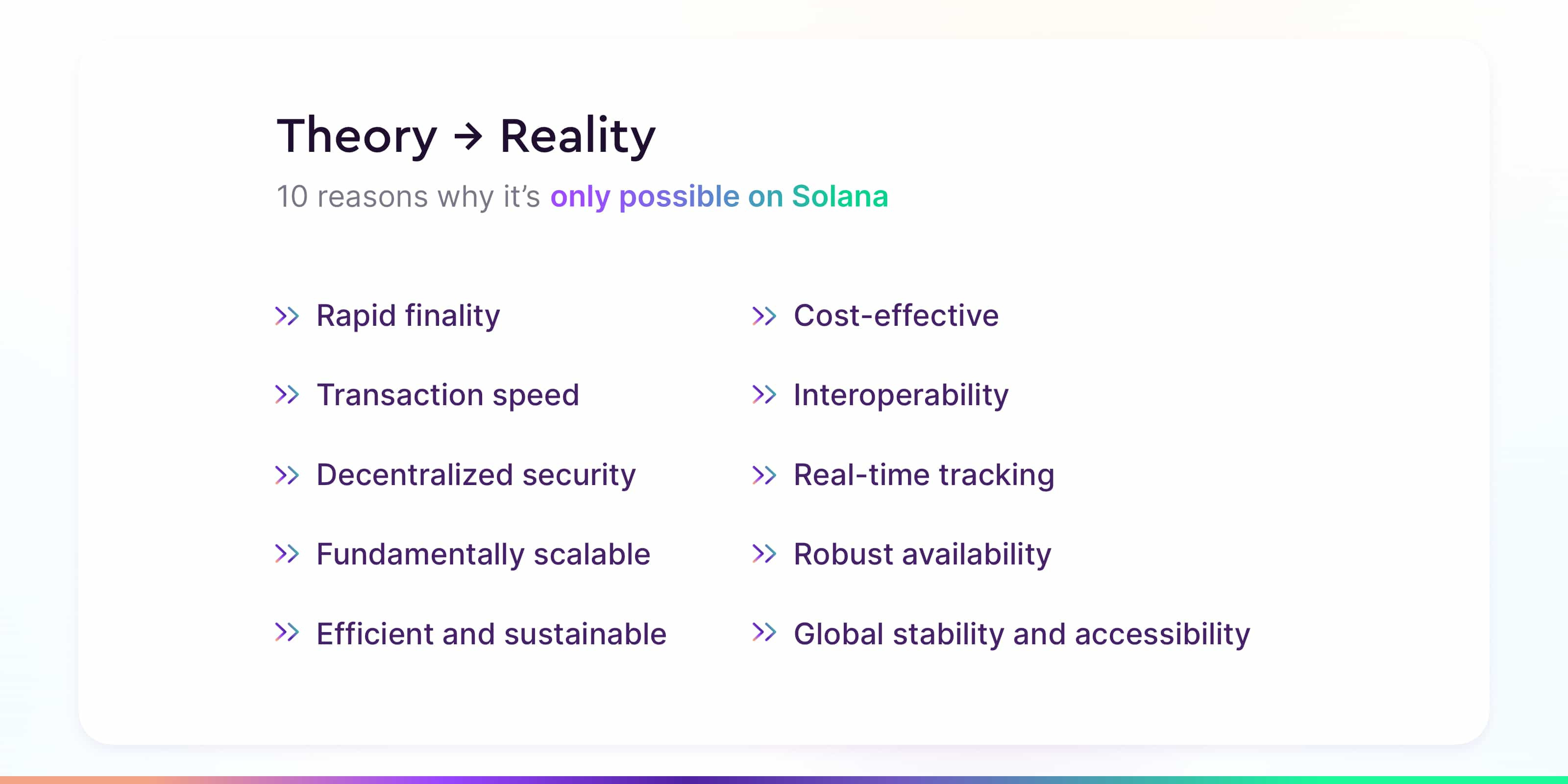 Tip: share this image with someone who needs this!
Robust availability
Solana's robust network infrastructure enables uninterrupted and seamless payment processing, ensuring reliable and continuous operations even during periods of high demand and transaction volume.
Cost-effectiveness
Solana's cost-effective transaction processing minimizes operational expenses, contributing to the financial sustainability of businesses managing high-volume transactions and loyalty programs.
Interoperability
Solana's interoperability capabilities and flexible integration options enable seamless collaboration with various blockchain networks and platforms, fostering a comprehensive and interconnected ecosystem for businesses.
Real-time tracking
Solana's high throughput and low latency facilitate real-time redemption and tracking, providing businesses and users with immediate visibility into the status of their transactions and loyalty rewards.
Global accessibility and performance
Solana's robust infrastructure enables consistent and reliable performance across the globe, ensuring seamless and uninterrupted operations for businesses and users worldwide.
By embodying these essential features, Solana continues to redefine the standards of blockchain technology, empowering businesses with a dynamic and robust infrastructure that fosters innovation, efficiency, and global connectivity across diverse industries and markets.
Building the solution
Now that we know what needs to be done; who's going to do it? At Crowny, we've been working hard to fill this need and make this theory become a reality with Solana. We've now built robust and flexible software that checks all the boxes we described. 

"Early 2020, the bootstrapping of Crowny started and the first pitch deck was published. After doing tons of research we found the right blockchain: Solana. When we started building, there were less than 10 projects being built on the Solana blockchain, now there are hundreds" - About Crowny

You can discover everything about our platform on our website, e.g. why we think Solana is the perfect partner. For now, here is a brief overview of some of the interesting features of Solana that Crowny uses: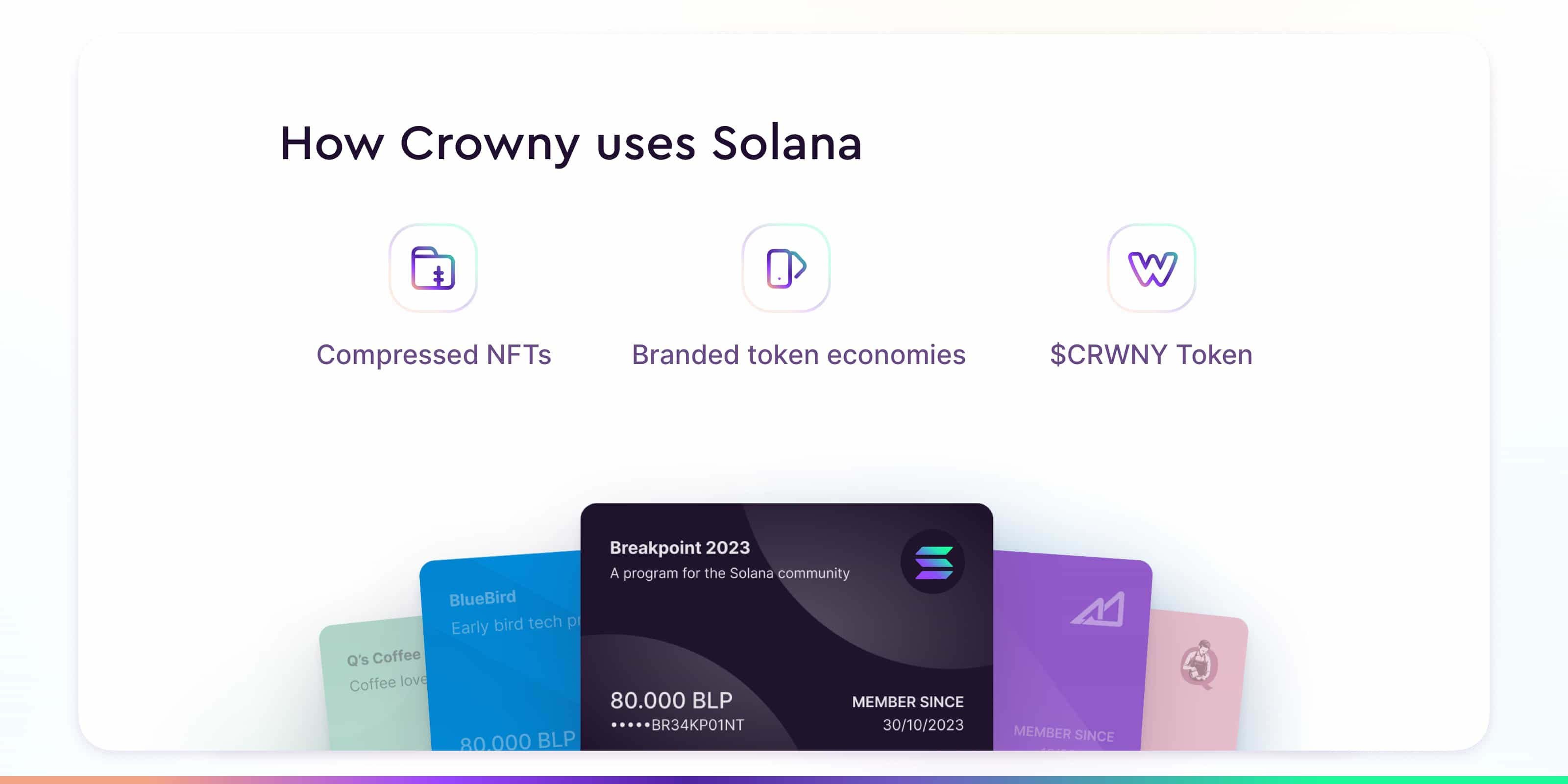 Compressed NFTs 
Embracing the transformative potential of NFT technology, Crowny integrates Solana's compressed NFT capabilities within a secure and efficient structure, facilitating seamless and cost-effective NFT minting processes. By leveraging the unique features of Solana's infrastructure, Crowny establishes a secure and scalable foundation for its loyalty platform, ensuring the seamless integration of NFTs into the loyalty experience. Learn more about NFT token gating for the loyalty industry, and NFT-gated communities for Shopify stores.

"With the emergence of capabilities such as on-chain fungible tokens, NFTs, and more, Web3 can completely reshape companies' existing customer loyalty propositions" - Boston Consulting Group
Branded token economies
By facilitating the process of creating token economies on the Solana blockchain, Crowny empowers e-commerce brands of any size to launch their own branded token economy on blockchain technology. These token economies will initially be used as loyalty points but could serve many purposes in the future. By utilizing the low-barrier Crowny provides for asset tokenization, businesses can easily access the realm of blockchain-powered loyalty programs. It will change the way brands interact with their customer base, and how they incentivize engagement.
$CRWNY token
At the heart of Crowny's loyalty infrastructure lies the intrinsic role played by the native $CRWNY token. Functioning as a pivotal element within the Crowny ecosystem, $CRWNY is used for rewarding active participation and fostering sustained engagement among community members. 
"The native $CRWNY token plays a key role in the platform, flowing into the wallets of those who participate in campaigns tailored to their area of interest" - Blockonomi
$CRWNY is available on AscendEX
Good to know about $CRWNY
With a steadfast commitment to transparency and accountability, Crowny provides valuable insights into the $CRWNY token's circulation and distribution, reaffirming the company's adherence to a fair and equitable tokenomics model that prioritizes community trust and long-term sustainability. 
You can find the latest update on the $CRWNY token on the X page of Crowny CEO Quincy Dagelet, here. In his post, he discusses the following topics: 
🚫 No More Vested Tokens

📈 Increased Circulating Supply

🔒Team and Founders Tokens Unchanged

👥 Growing Holder Count
Make sure to follow Quincy for important updates.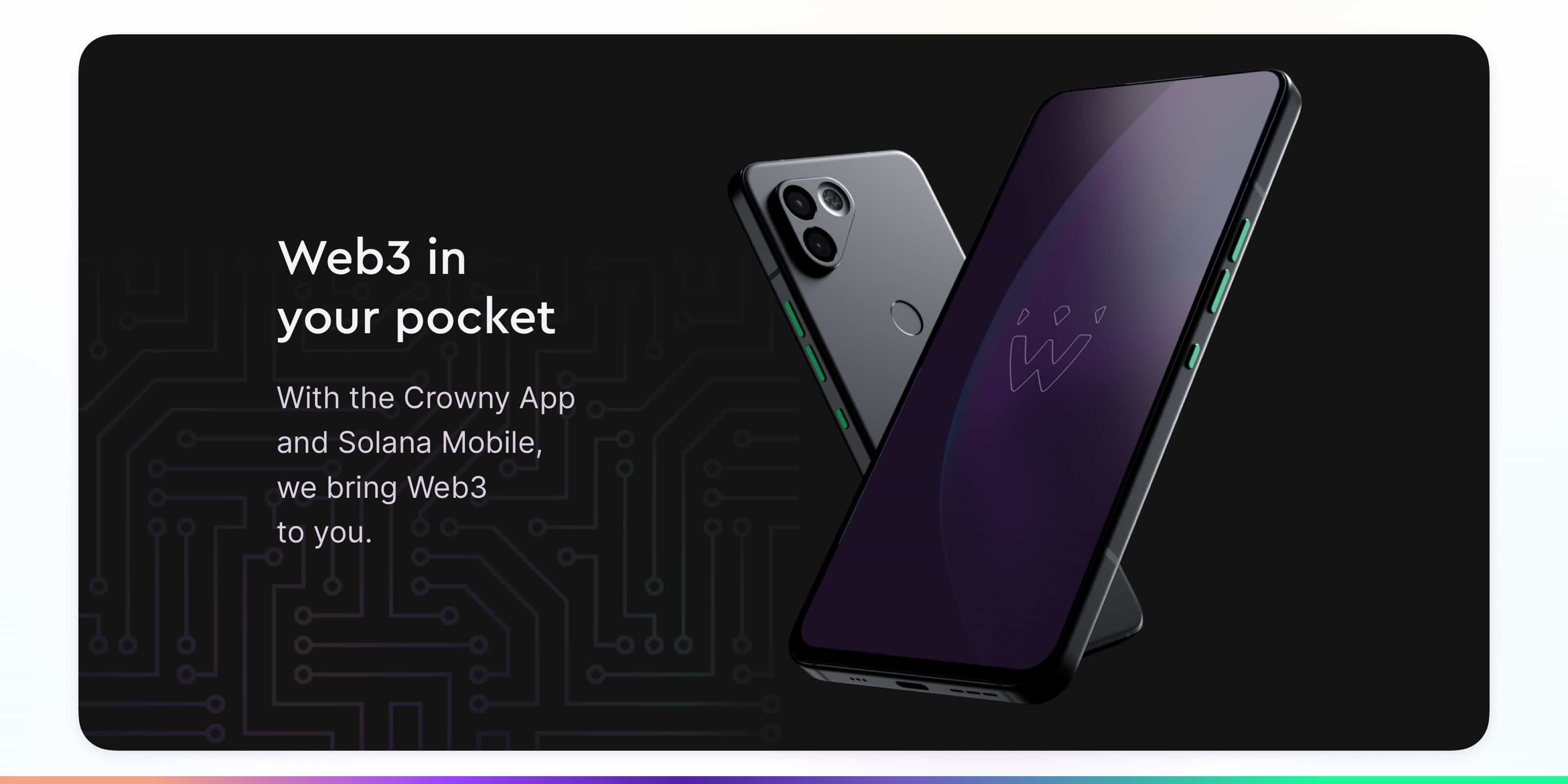 Best of both worlds
At Crowny, we bring the best of two worlds together by combining Solana's blockchain and the very best performance-driven app marketing features. 
Leveraging the power of the Solana blockchain, we empower businesses to cultivate thriving online communities. Our Web3 loyalty platform is close to being released.
Stay in the loop, subscribe below.