Visa, responsible for 40% of global transactions, now uses Solana and USDC for a stablecoin settlement pilot. Discover the impact on the industry and Crowny.
Visa's crypto journey
Visa is making significant moves in the world of blockchain and cryptocurrency. In recent years, it has been exploring the possibilities of blockchain technology and digital currencies. Visa describes its main goal as enhancing its cross-border payment capabilities, which are financial transactions that occur between parties located in different countries.
Visa's volume in 2022:
✅ 40% of global transactions

✅ 242 billion purchase transactions

✅ 0.66 billion transactions per day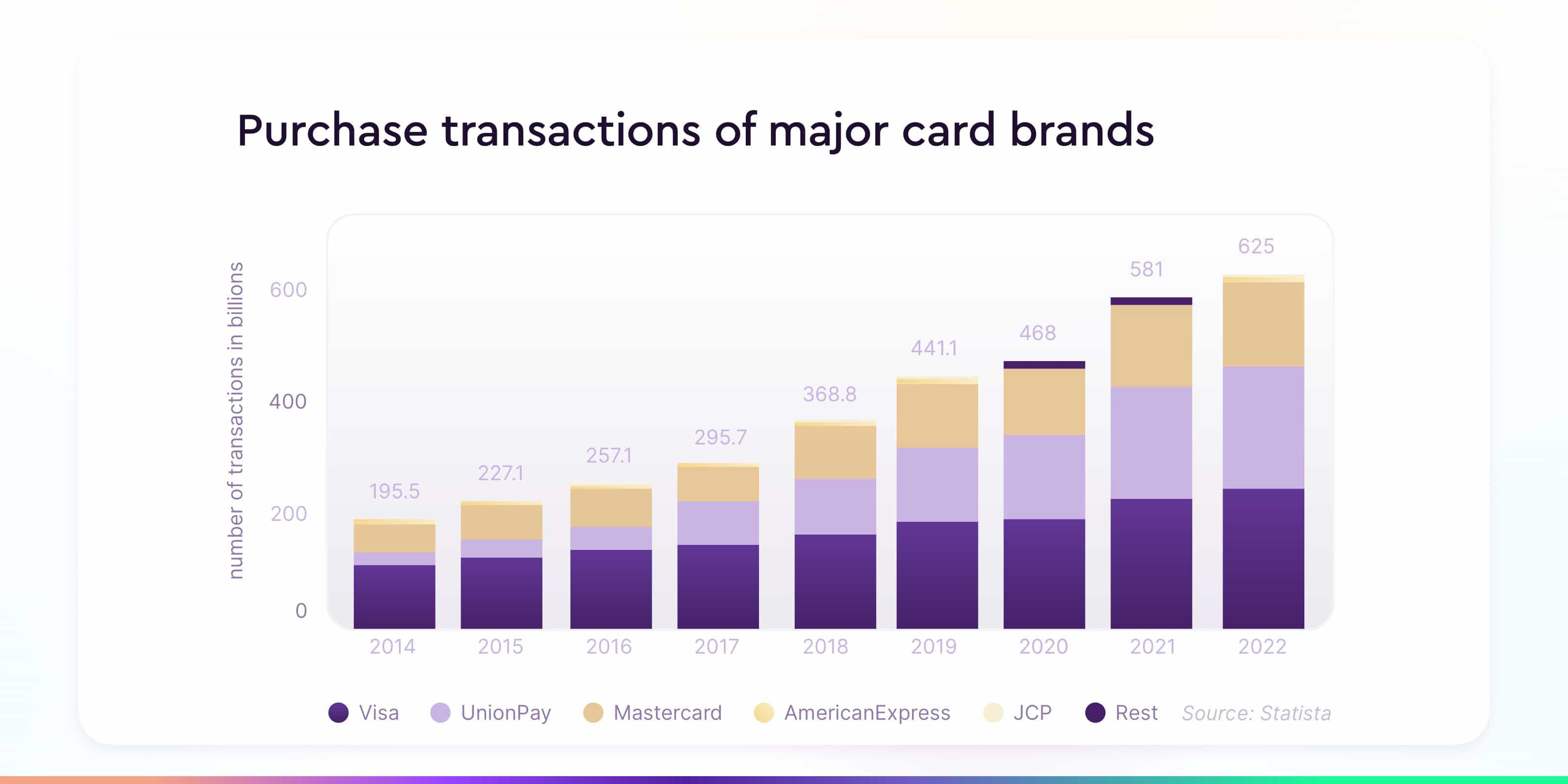 Source: Statista, adapted
What they achieved
Visa's journey into the crypto space began with testing USDC, a stablecoin, for its treasury operations in 2021. This initial experiment paved the way for Visa to embark on a pilot program with Crypto-dot-com, utilizing the Ethereum blockchain for settling cross-border payments made with Visa crypto cards. 
"In 2021, Visa began testing how USDC could be used inside its treasury operations which led to a pilot with Crypto-dot-com, making Visa one of the first major payments networks to test stablecoin settlement on the issuance side. This work led to a successful pilot leveraging USDC and the Ethereum blockchain to receive payments from Crypto-dot-com for cross-border volume on their live card program in Australia" - Visa Newsroom
What is stablecoin settlement?
Payment settlement refers to the process by which financial transactions are completed by the transfer of funds from one party to another. Stablecoins are digital currencies whose worth is fixed or linked to the value of another currency, commodity, or financial asset.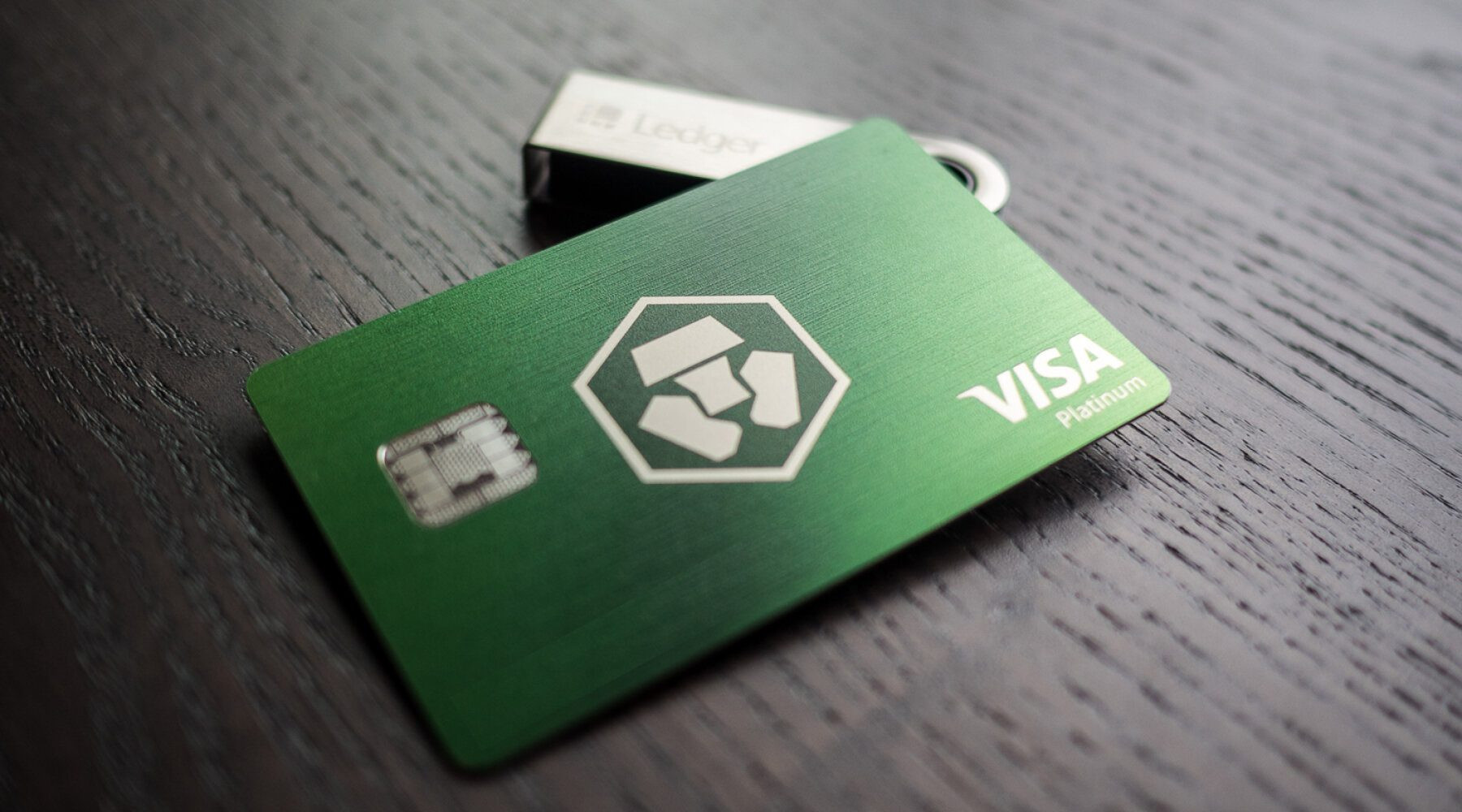 Source: Finder
Solana & USDC stablecoin settlement pilot
Fast forward to today, Visa has expanded its stablecoin settlement capabilities. It has started a pilot using Circle's USDC stablecoin and Solana's high-performance blockchain. This strategic move aims to accelerate the speed of cross-border payment transactions.
This event marks a significant development in the traditional financial sector's embrace of blockchain technology. Visa's decision to leverage Solana for settlements showcases its commitment to enhancing payment efficiency and exploring innovative solutions.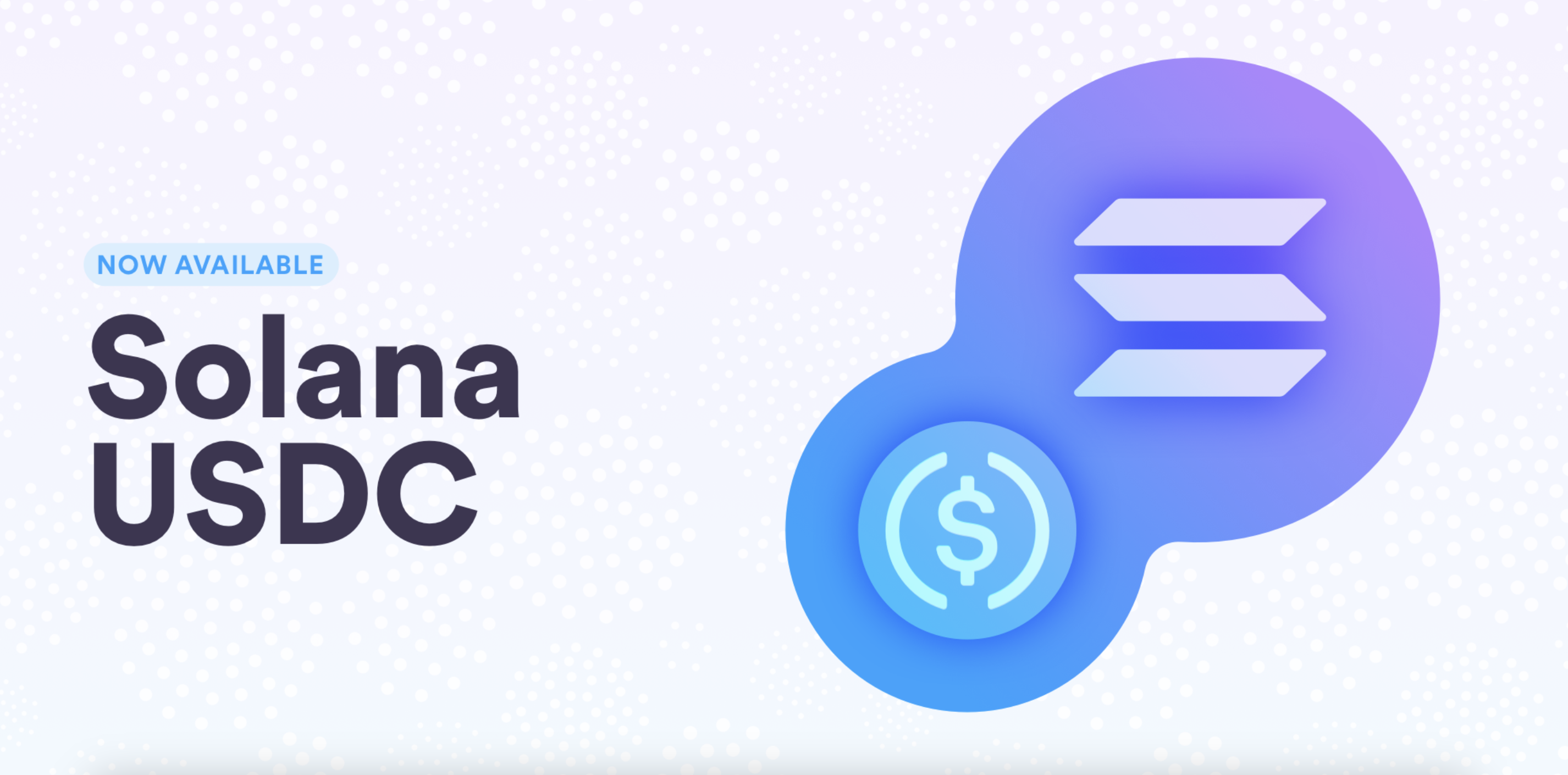 Source: Circle
Why Visa is harnessing the power of Solana
Now that we understand Visa's steps in the crypto world, let's explore why they are specifically interested in Solana as their blockchain infrastructure provider. While Visa already boasts impressive transaction capabilities, Solana complements their infrastructure by offering fast settlement times. 
Visa recognizes the potential of digital currency for a globally accessible payment infrastructure that enables cross-border payment seamlessly. Utilizing a blockchain infrastructure is critical for this concept to work. Solana has been chosen as the best option to make it happen.
According to Visa's official website, here's why:
✅ TPS

✅ Low transaction costs

✅ Finality

✅ Availability

TPS
Solana is known for its exceptional transaction processing speed. It's one of the fastest blockchains in the industry. This speed is crucial for real-time settlements. Visa's network boasts similar TPS performance. In order for them to guarantee a similar user experience when using digital currencies like USDC, Visa requires a blockchain that matches their performance, like Solana.
Low transaction costs
Solana offers not only speed but also affordability. Its transaction fees are predictably low, usually less than $0.001. This predictability sets them apart from other blockchains, and makes it an attractive choice for optimizing payment operations globally.
Finality
Solana's efficient parallel transaction processing ensures quick finality for transactions, setting them apart from other blockchains. This means that payments are confirmed rapidly, reducing settlement times and associated complexities. It's essential to guarantee a high-quality user experience.
Availability
Solana's availability is a key factor. The blockchain is robust: it can handle high demand and surges in transaction volume without compromising performance, ensuring smooth and uninterrupted payment processing.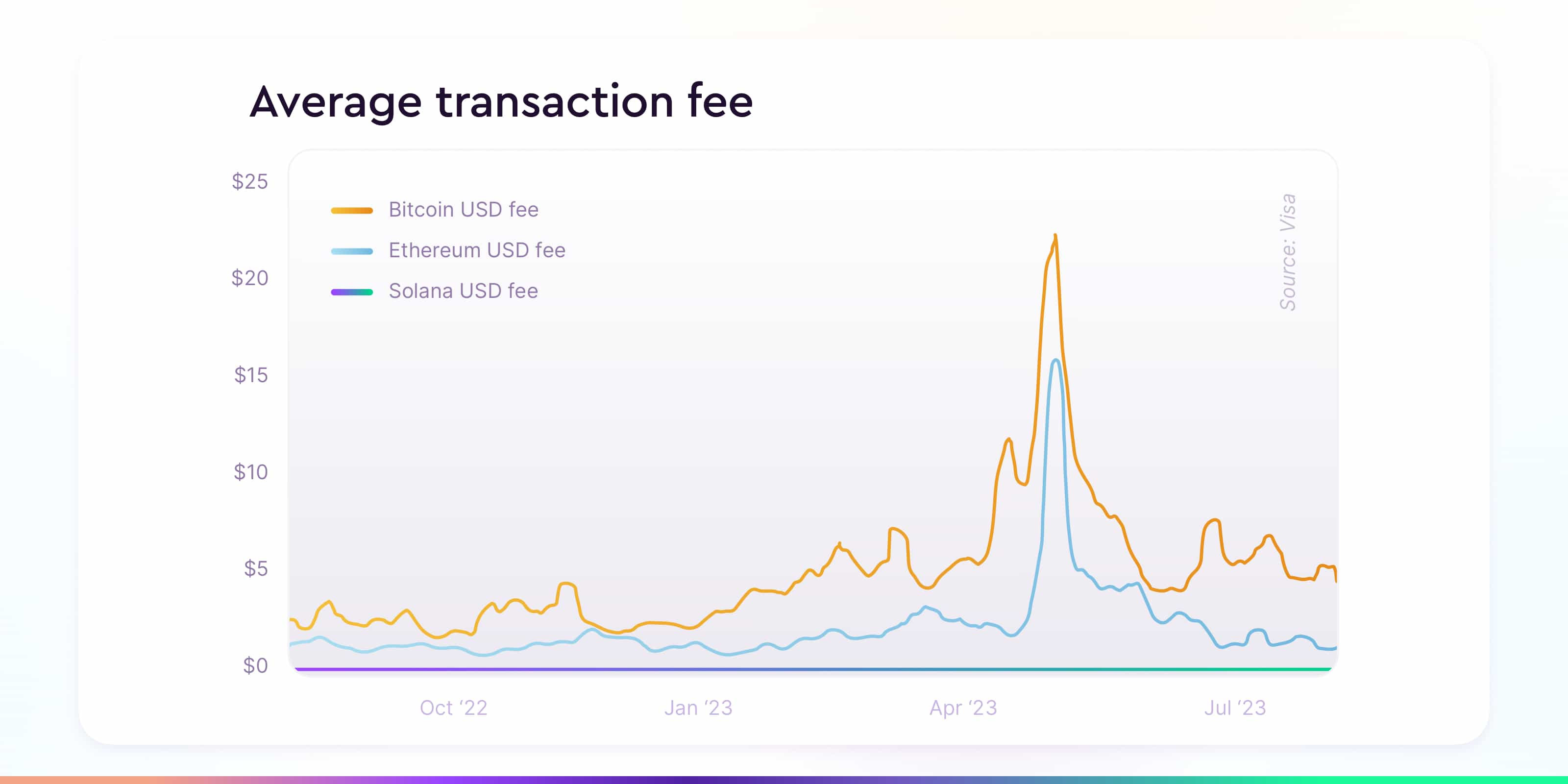 Source: Visa, adapted
USDC: the stablecoin of choice
Visa's choice of USDC as the designated stablecoin for this pilot is an important component to understand. Why is USDC the ideal stablecoin for this venture?
Predictable transaction costs
USDC offers predictable and low transaction costs. Unlike other cryptocurrencies, where fees can fluctuate unpredictably based on demand, USDC's stability ensures cost predictability.
Localized fee markets
USDC's localized fee market aligns with Solana's parallel processing capabilities. This means that congestion in one account doesn't affect others, resulting in a fee-market that responds to specific use cases.
"It's still early days, but Visa has already settled millions of dollars of USDC over the Ethereum and Solana blockchains between our clients" - Cuy Sheffield, Head of Crypto at Visa
Benefits for Visa issuers and acquirers
Visa has also initiated pilot programs with acquirers Worldpay and Nuvei. They allow businesses to opt for USDC stablecoin settlements instead of traditional fiat currencies. This shift offers Visa issuers and acquirers the following advantages:
✅ Streamlined processes

✅ Reduced costs

✅ Greater flexibility
How it works
Acquirers facilitate the global acceptance of card payments for merchants, retail establishments, and online stores. Through this service, the acquirer expedites the receipt of USDC funds from Visa, ensuring swift access to capital. The acquirer promptly transfers the received USDC to the merchant upon receipt, enabling seamless, round-the-clock transactions across the globe. 
In the context of Visa's collaboration with cryptocurrencies and stablecoins an "issuer" typically refers to the entity or organization that issues a cryptocurrency or stablecoin, like Circle or Crypto-dot-com. An "acquirer" typically refers to a financial institution or payment processor that facilitates card-based transactions for businesses or merchants, like Worldpay and Nuvei.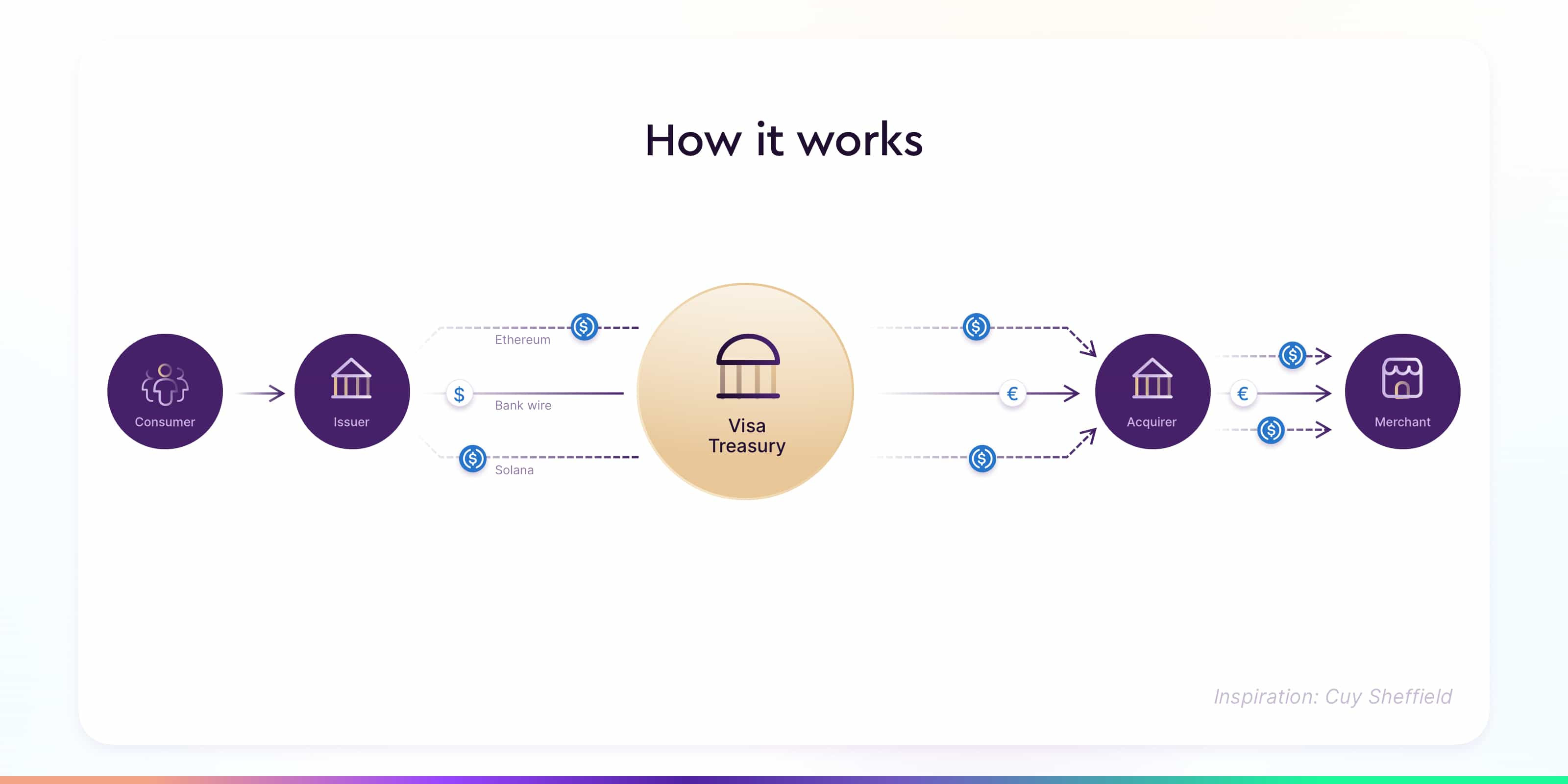 Source: Cuy Sheffield, adapted
Why it is significant
This immediate settlement represents a significant difference compared to the current norm. With this new structure risks and associated costs are minimized. With USDC, the settlement occurs instantaneously, and the funds are transferred instantaneously. This development serves as a significant endorsement of the fundamental appeal of stablecoins: the ability to facilitate cost-effective and lower-risk cross-border delivery of US dollars. 
What this means for crypto adoption
Visa's collaboration with Solana and USDC has significant implications for the adoption of crypto and blockchain technology:
✅ Mainstream acceptance

✅ Cross-border efficiency

✅ Reducing friction

✅ Merchant adoption

✅ Innovative partnerships
Mainstream acceptance
Visa's involvement brings legitimacy to the crypto industry. They are a trusted global payment network serving millions of merchants and consumers worldwide.
Cross-border efficiency
Visa's efforts to streamline cross-border settlements showcase the benefits of using cryptocurrencies for international payments.
Reducing friction
Visa's initiatives aim to simplify payment processes, making crypto more appealing for businesses and consumers by reducing complexity and costs.
Merchant adoption
Visa's partnerships with acquirers like Worldpay and Nuvei open the door for businesses to accept stablecoins as payments, further promoting crypto adoption.
Innovative partnerships
Visa's willingness to work with Solana and other cutting-edge technologies inspires other institutions to consider similar collaborations, accelerating crypto adoption.
Source: Bagsy, adapted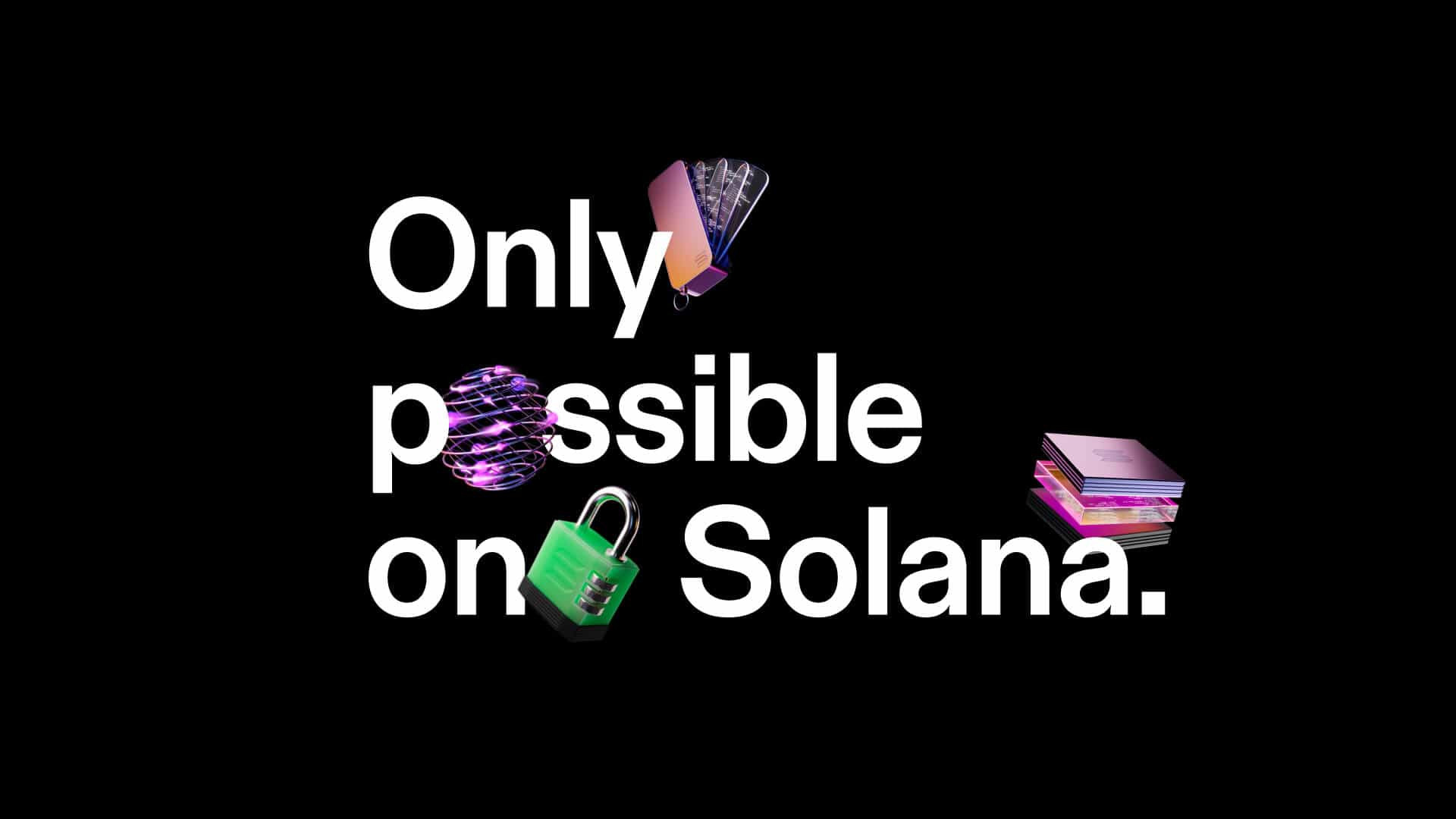 Source: Solana
Why it elevates Crowny's potential
Visa's collaboration with Solana and USDC represents a pivotal moment in the crypto industry. This development not only benefits Visa but also opens up exciting opportunities for Crowny. Witnessing industry giants like Visa and Shopify jump on board with Solana's blockchain and Circle's USDC is incredibly exciting.
For Crowny specifically, the events elevate our potential by:
✅ Helping build our authority, because it validates our vision and preference for Solana

✅ Spreading awareness for blockchain solutions that solve everyday problems, like ours

✅ Expanding our potential user base by opening new paths for companies to partner with us

Learn more about the role of USDC in the recent news about Solana Pay, Shopify and Web3 Loyalty Programs, in case you missed it.
How to participate
As Crowny continues to ride the wave of positive developments in the crypto and blockchain space, our horizon looks bright. The next generation of loyalty programs and customer engagement is intertwined with the exciting possibilities of blockchain technology, and Crowny is set to be at the forefront of this transformation.
Ready to tap into Web3 Loyalty with your brand?
Sign up for early access today.