Solana's payment protocol, Solana Pay, integrates with Shopify to enable USDC payments. How will it benefit Web3 adoption, and what role will Crowny play?
TL;DR
For anyone who doesn't have a lot of time on their hands, let's quickly summarize what happened and what it means exactly!
"Solana Pay Integrates with Shopify as New Payment Option to Transform Commerce" - Solana Official Announcement
Solana Pay is a decentralized payment protocol that has integrated with Shopify, offering millions of businesses a new payment option. It uses USDC initially due to its stability and regulatory compliance but will consider adding other cryptocurrencies. 
Shopify represents a significant portion of e-commerce worldwide, where Solana Pay is able to offer near 'fee-free' transactions. The integration will benefit lots of businesses with loyalty programs and is compatible with Solana-centric wallets. On the Web3 loyalty and rewards side, is where Crowny comes into play.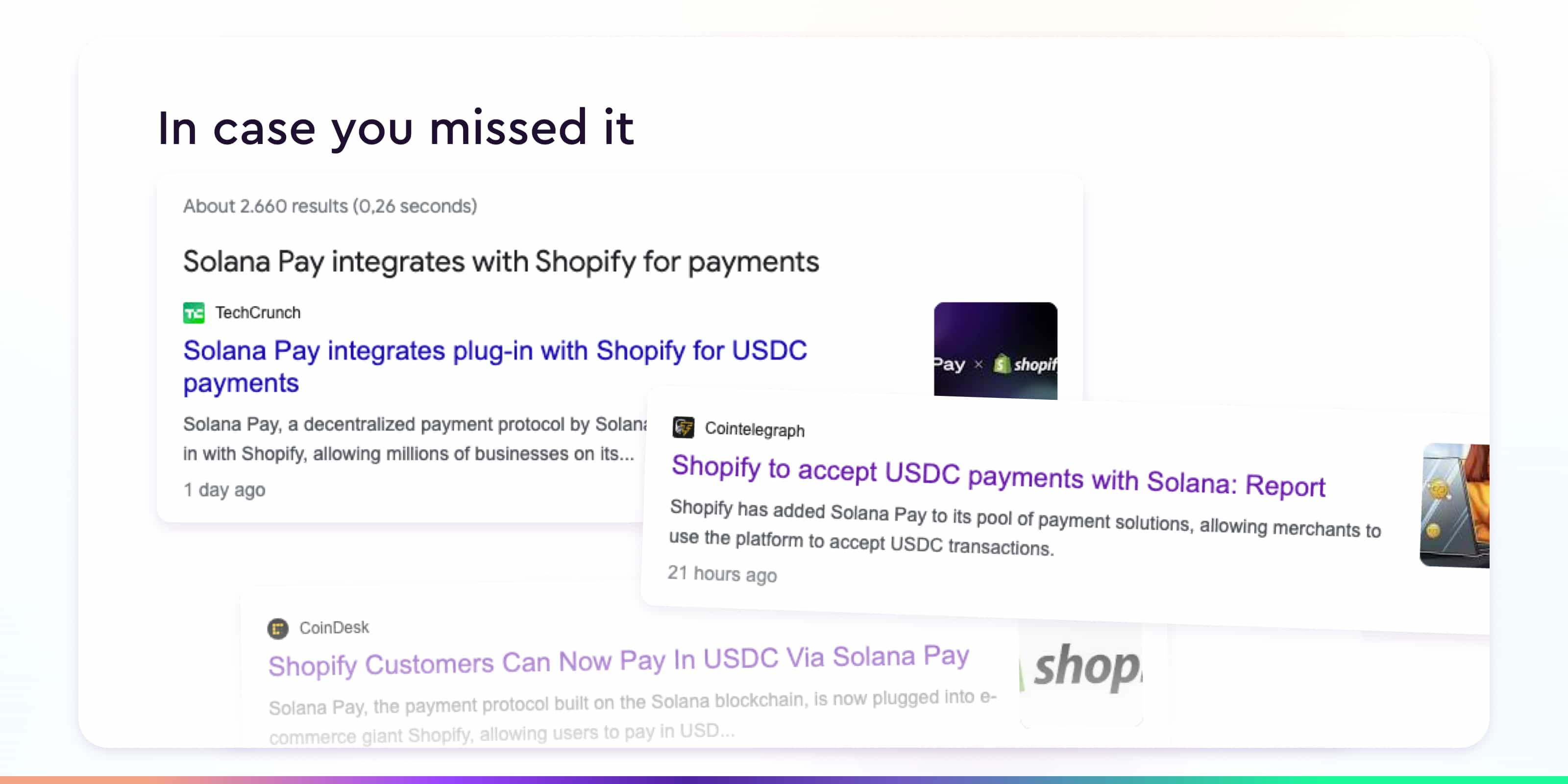 Introducing Solana Pay
Solana Pay & USDC
Solana Pay is a decentralized payment protocol built on the Solana blockchain, developed by Solana Labs. It uses the USDC (U.S. Dollar Coin), which is redeemable 1:1 for U.S. dollars, as its current exclusive payment option. USDC is a digital currency issued by Circle. It is perfectly suitable as a stable currency due to its stability and regulatory compliance. Solana Pay has let known to consider adding other cryptocurrencies in the future as well.
"Money just got the ultimate software upgrade. With USDC, move money almost anywhere securely, in seconds, at a fraction of a cent" - Circle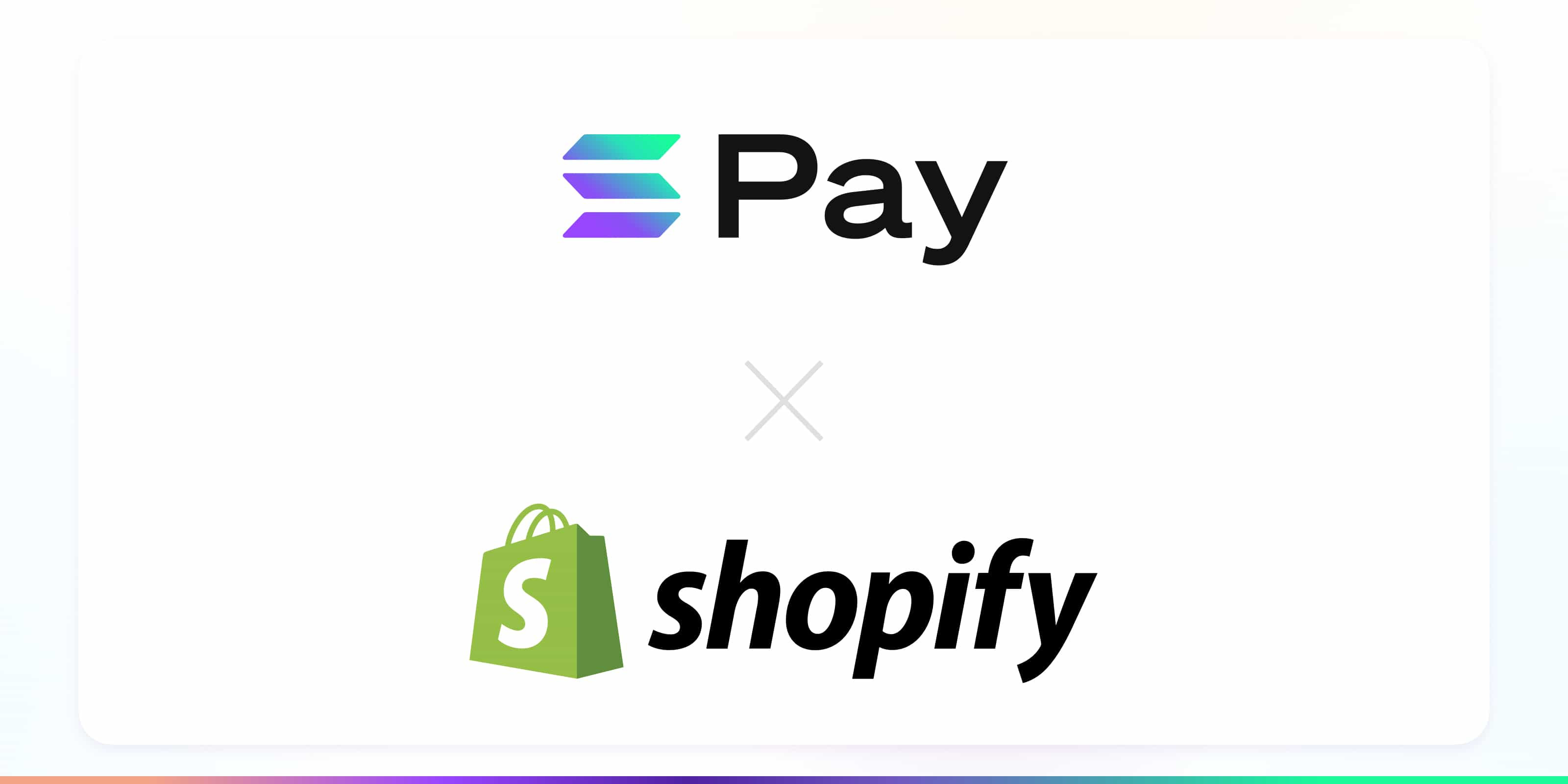 What makes this partnership significant?
Realm of digital payments
The partnership between Solana Pay and Shopify marks a significant step forward in the realm of digital payments. Shopify, responsible for 10% of total U.S. e-commerce and a staggering $444 billion worth of global economic activity, is a true powerhouse in the e-commerce space. 
What happened?
Solana Pay made big waves in the world of e-commerce earlier this week by integrating its plug-in with Shopify. Shopify is a leading e-commerce platform, servicing 4.12 million websites in 2023 globally. This brand-new integration opens up many opportunities for businesses looking to embrace the world of digital payments and blockchain technology. Every Shopify retailer can explore untapped growth areas for their brand and customers.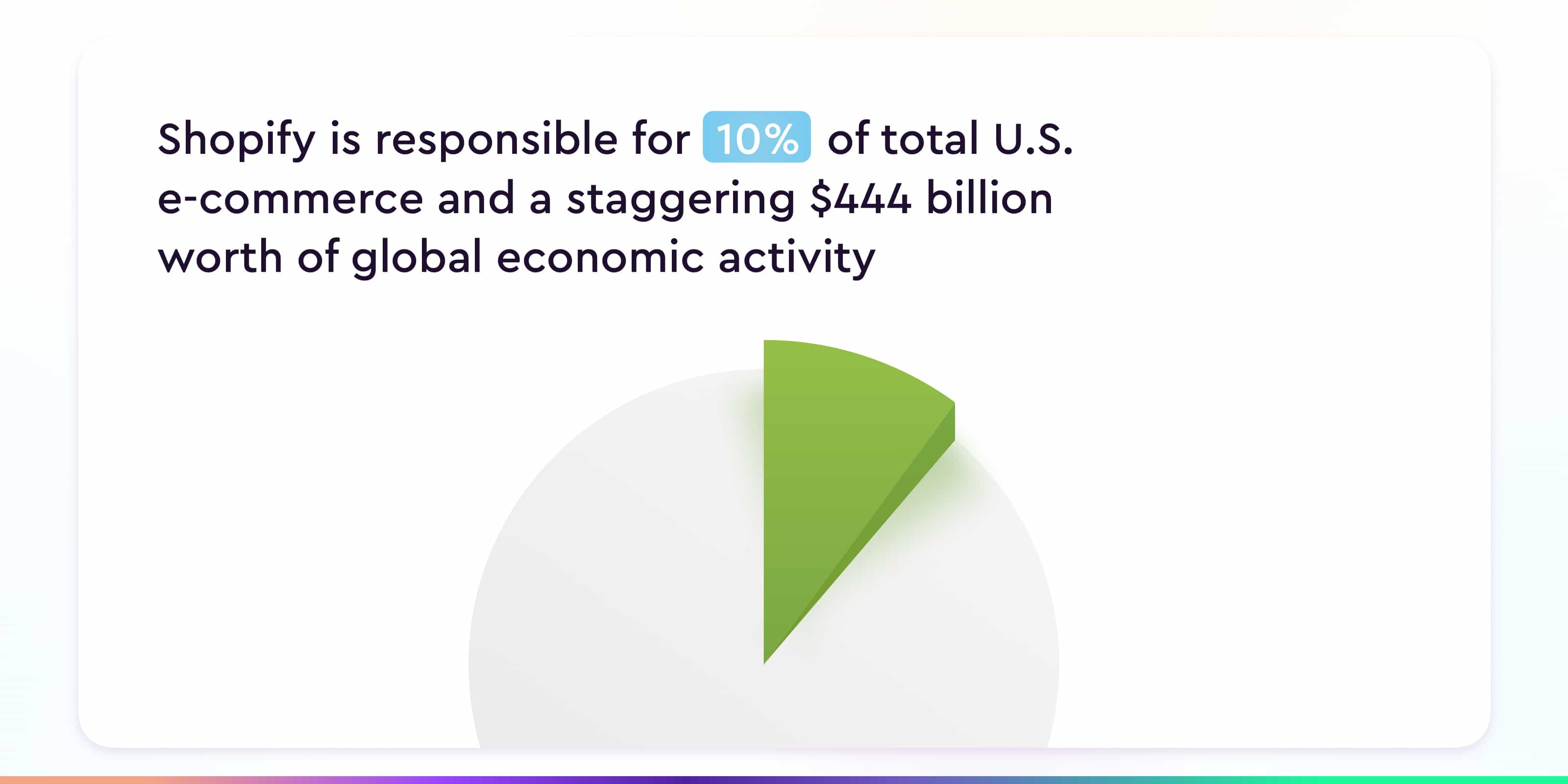 Highly efficient
Solana Pay, on the other hand, introduces a decentralized and highly efficient payment protocol. This integration means that millions of businesses using Shopify's platform can now leverage Solana Pay's capabilities for payments, providing an alternative to traditional payment methods.
Added-value
Credit card transactions incur fees ranging from 1.5% to 3.5%, whereas Solana transactions are almost fee-free. The digital nature of the currency allows for increased accessibility of payment options, enabling new customers to conveniently buy products using USDC. The combination of these two components makes USDC a strong opponent of traditional currencies, resulting in the progress of currency evolution. The integration with Shopify is a big step in the right direction for global adoption, thus paving the way for the masses into Web3.
Impact on the Web3- and loyalty industry
One of Solana's team members took to Twitter as well to elaborate more on the importance of this event for loyalty programs.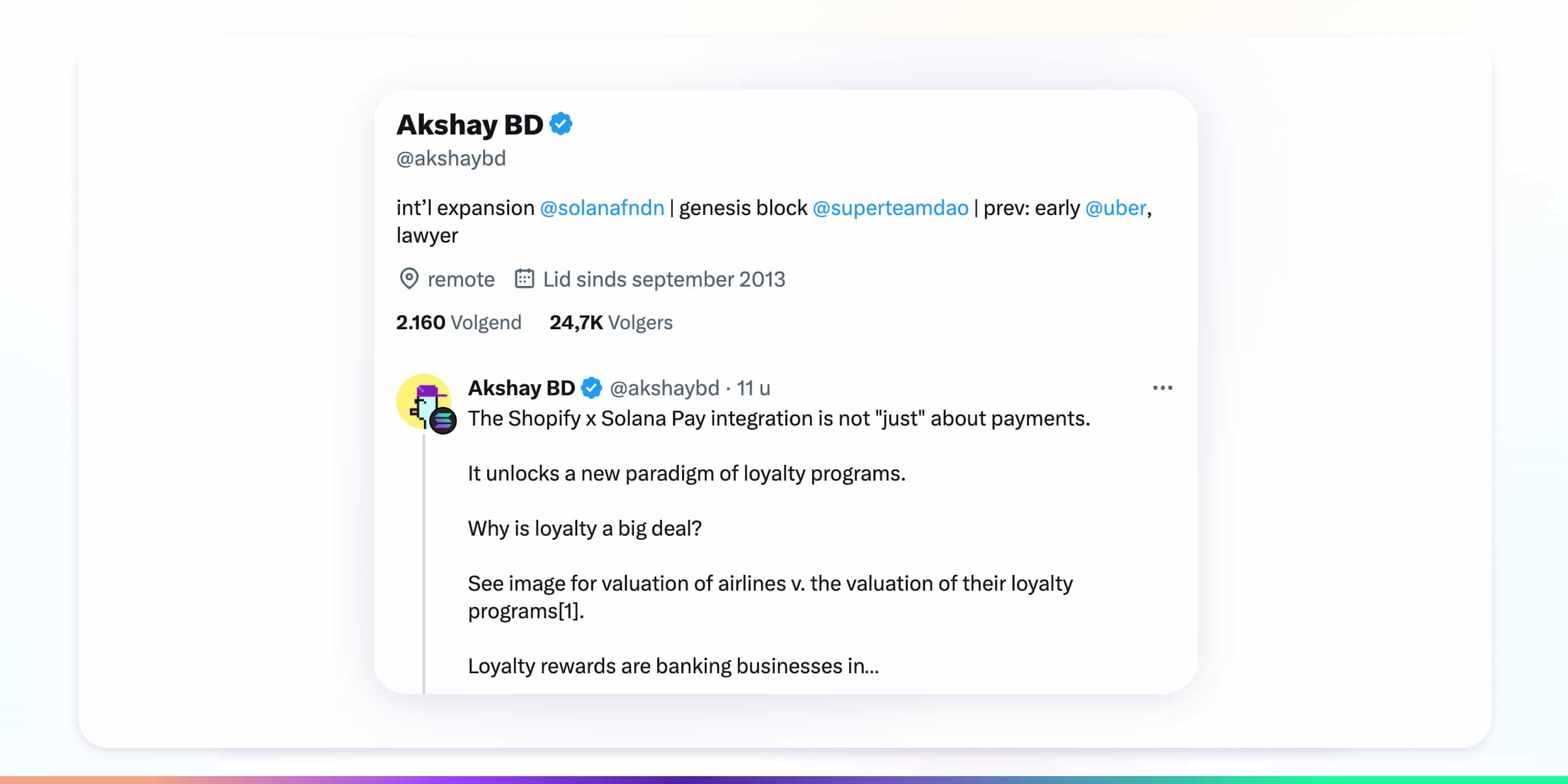 "Loyalty rewards are banking businesses in disguise. Now every store owner can start their own loyalty program, or team up with other complementary stores and split their customer acquisition costs (eg., how Hertz customers can earn American Airline miles)" - Akshay BD
The missing piece to the puzzle
Demand for loyalty solutions suited to modern digital standards
In the evolving landscape of digital payments, businesses are constantly seeking innovative solutions to foster customer loyalty. 
"An extra benefit for merchants and consumers of using Solana Pay: Payments become a gateway for web3-enabled commerce experiences, including token-gated offers, simple cross-border payments, and NFT-based loyalty programs" - Official Solana Pay announcement
While Solana Pay introduces a decentralized payment protocol, there's a missing piece to be observed in accomplishing large-scale consumer adoption. They recognize the demand for a loyalty solution that makes their innovations easily accessible for every consumer - and are counting on their ecosystem of projects to deliver. 
This is where Crowny comes into play
This is where Crowny steps in with its Web3 Loyalty Platform. The platform will be able to fulfil exactly what is described in Solana's partnership announcement. But besides allowing merchants on Shopify to award discounts for purchases, they can expect more. A lot more.
"The news of Solana Pay integrating with Shopify is an exciting step in the right direction for adoption and also showcases their strength on the payment side benefiting both business and users. We are looking forward to trying it out!" - Quincy Dagelet, CEO of Crowny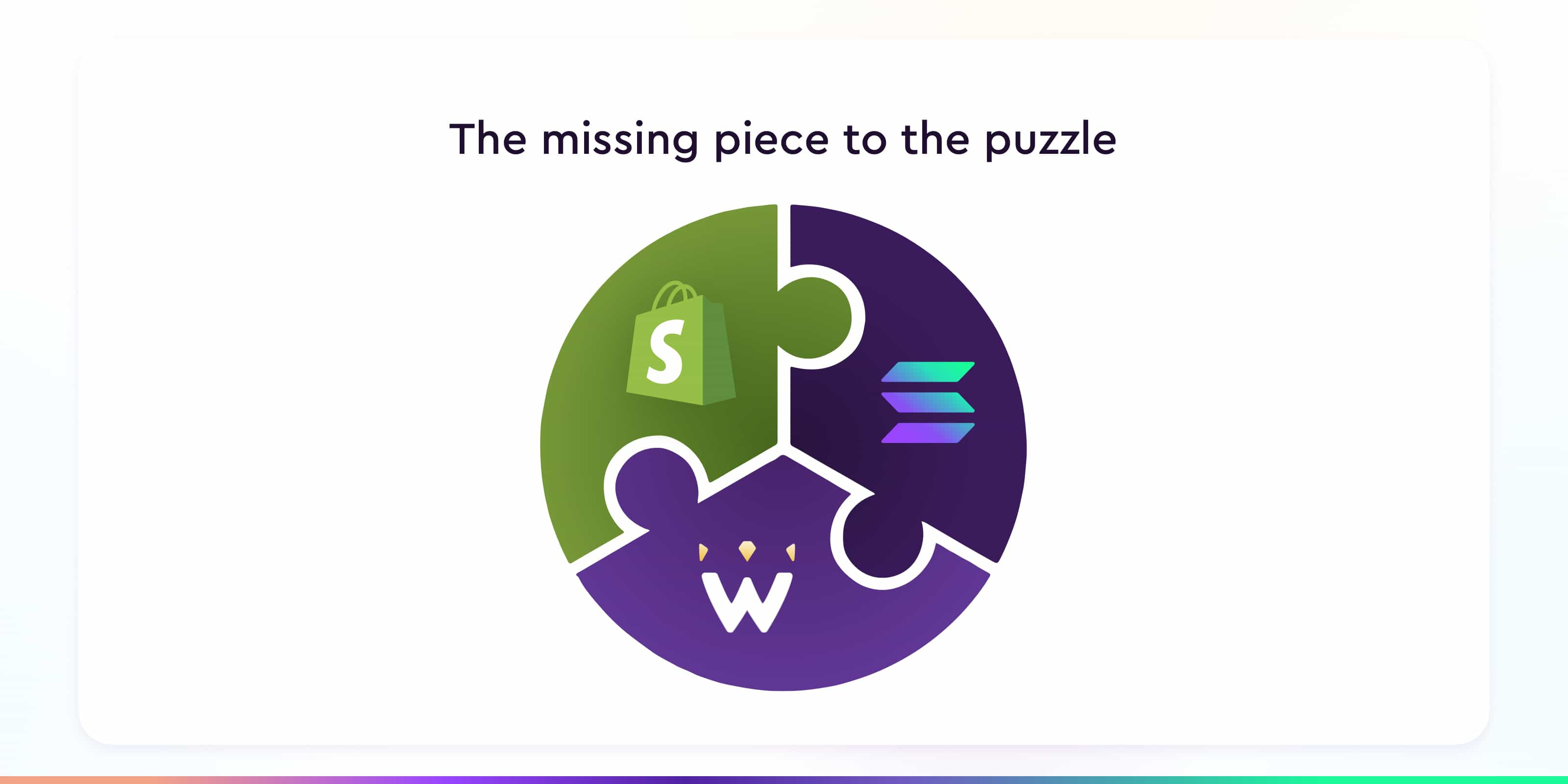 Not convinced?
Our community can confirm that we've been working toward this phase for a while. Since our first Shopify-exclusive announcement in November '22, we experienced a lot of growth in developing our platform to suit the high standards we've set. We have not stopped sharing insights about the opportunities our platform will be able to provide. In the past month, we have published three relevant blog articles, including another blog last week dedicated to Shopify stores.
From old to new:
🔗 Shopify's 4 Types of Loyalty Programs (November 8th, 2022)
🔗 10 Key Benefits of NFT Token-Gating (July 25th, 2023)
🔗 Token-Gated Communities Are the Future (August 8th, 2023)
🔗 NFT-Gated Communities for Shopify Stores (August 15th, 2023)
Next steps
Looking ahead, the possibilities of Crowny, Solana Pay and Shopify hold immense promise. With the release of the Crowny platform and its Shopify plug-in, creating a seamless bridge between traditional Web2 and innovative Web3 experiences is within reach. The timing couldn't be better, as businesses are increasingly exploring alternative payment methods and loyalty solutions.
Thanks for reading, we look forward to an exciting future!