This past year has been a true rollercoaster. It didn't hinder Crowny's development though, we kept building. Read on to find out what we've been up to, and what's yet to come.
In short, we have:
☑️Concluded the token burn

☑️Adopted a B2B positioning

☑️Concluded Beta App testing

☑️Developed the Crowny Wallet

☑️Optimized our backend infrastructure

☑️Started Alpha testing for the App and Portal
Introduction
The year 2022 is one to remember, especially because of the ups and downs it had. As we reflect on the past year, we are proud of the progress we have made, even though we initially would have liked to accomplish even more. In the past months, several companies were forced to leave the crypto space. We've seen hacks occur and watched fraudulent activities unfold before our very own eyes. Projects that bring the most value will always continue to build and grow during the so-called 'bear market'. Despite all the difficulties, Crowny kept on building. We will continue to do so to fulfill our mission: 'to reward business and users for every interaction'.
So let's start from the beginning.
Q1 2022
It all started with the completion of one of our most significant milestones: the migration to Solana. Even though we were well-prepared, migrating from one blockchain to the other one is never easy. In this process, we were able to automatically migrate the AscendEx holders. We were also able to provide a manual solution for all holders with all on-chain addresses: we built our own tokens bridge so users could migrate their $CRWNY tokens. In order to continue our development as a Solana-native platform, it was essential for us to close the portal permanently.
As we continued testing our Beta App, more and more companies became excited about the benefits it has to offer to both users and businesses. In the same period, AscendEX announced that they will be one of the first to test the Crowny Platform upon release. Great results after a lot of hard work. With a user base of over a million users, this could bring in a lot of users to our app. Truly exciting news!
"It's always exciting to see our partners grow as they achieve big milestones. We are committed to supporting the Crowny team and look forward to growing our partnership further" - Dimitry Chesnokov, AscendEX
Our journey continued with a trip to Dubai for the Solana Hacker House event. We had a chance to speak with people from all over the world - many of them saw opportunities to partner up with Crowny in the future. This was also the time when we hosted our first Twitter Spaces and Discord AMA. Here is an example of one of the questions we answered:
Q: "On what companies will Crowny focus?"

A: ''Our focus will be on B2B marketing and onboarding (SMEs & crypto) brands with existing communities. This is a win for our existing user base and it grows the number of users using the Crowny App.''
We also continued with the expansion of our Ecosystem, adding businesses like Boring Protocol to our list of strategic public partnerships. During the last month of this quarter, we also launched many improvements on our website, making it easier for businesses to sign up for a demo of our platform.
You finally received some of the details on the Crowny Wallet as well, but more on that later.
Q2 2022
The new quarter started with a bang! The Crowny CEO shared a quick thread about the Crowny wallet functionalities. Initially, we planned to support external wallets instead of building our own. By extensively testing our Beta App with people outside of crypto we soon realized that external wallet usage would be considered a burden for many users. There would be too many steps involved, which would make the barrier to joining Crowny too high for traditional consumers. This reason, among others, resulted in the decision to start development for our own wallet: the Crowny Wallet.
On the $CRWNY token's 1-year anniversary, we concluded the last part of our migration to Solana. Shortly after we were finally able to share all the details on the newest situation after closing the bridge permanently. Approximately 86.9M $CRWNY were burned, which was over 9% of our total supply at the time! Here you can read everything on the CRWNY token burn. 
Transitioning our communications for a B2C narrative to B2B one has started. We shifted our main focus to serving businesses to reach their full potential and grow revenue, using the Crowny Platform. For Crowny's growth as a platform, it's much more sustainable and efficient to target businesses and start onboarding their community, in stead of trying to reach individual consumers. 
The quarter turned out to be much different than we initially planned, mainly due to the conclusions we were able to make after collecting feedback from our test partners. This involved having to review and iterate a significant part of our back-end structure to make it the way it is today: suitable for different business needs, and scalable for limitless future growth. You can read more about the Crowny App & Portal developments we shared during this period in our July release update. Our developments didn't only happen in the back end of our platform. You can also find an entirely new business-focused web page we've built to appeal more to that audience.
We also shared that we're proud to announce our partnership with HBC, a Dutch football club. Our partnership with HBC is one of the partnerships that we cherish most, as it focuses on bringing sports and fun to a broad but close-knit community. It feels great to be among a list of sponsors like ING, KELME and SPORT2000.
Q3 2022
The second half of the year started with great excitement. Our main task was to get the Crowny App approved in the app stores, which didn't go as planned. Even though the app got approved by the Google Play Store rather quickly, the Apple App Store didn't follow. This turned out to be a process that eventually took much more time than expected. Based on feedback from our closest supporters, community,  and testers group, we decided to get back to the drawing board for some of the more advanced in-app mechanisms and structure. It seemed wise not to rush things and make sure our fundament is set up correctly for future growth and scalability. We're proud to see that we've been able to implement several improvements in the back end of our platform. 
Besides many highly-advanced technical improvements, we have also been able to share some very tangible changes to our platform. After the public test, we ran in Lisbon for Solana's Breakpoint event, we quickly concluded that the registration flow for our app needed to be simplified. For example, when a new user is at the cashier to pay for their coffee, they might be interested in getting a reward through the Crowny App. They won't have time to set up a wallet, write down a new seed phrase etcetera. That's why we have simplified this flow as much as we possibly could. The implementation of Web3Auth in our software has been a key component in reaching a registration flow that only requires the user to perform a couple of clicks before being able to join a loyalty program and claim their first reward, while also improving security and accessibility!
In the meantime, we didn't stop spreading awareness. With several sneak peeks of both the app and portal, we make sure that our following is continuously up-to-date on our progress. While the platform is starting to take shape, we are now able to provide more context. Many of you have asked questions about the exact utility of the CRWNY token, for example. Our CEO has taken the time to provide you with some details, here's the token utility thread. One of the main questions answered is:
How will marketing- and brand loyalty campaigns result in increasing scarcity of the $CRWNY token?
The CTO of Crowny decided to share some insights on the platform's potential as well. We decided to save you the trouble of digging through our many Telegram updates and worked out the most important elements in our blog called tokenized economies. This has been one of our articles that got received very well by our community, it sparked a lot of great ideas. In this post, you can find the most interesting community-driven use cases for the Crowny platform.
It didn't stop there. During this period we've elaborated on many relevant topics you absolutely need to know about. We published blogs about loyalty program benefits, interact-to-earn and blockchain-based loyalty rewards
We also attended several public events with the team. Visiting events always prove to be useful to us, as speaking with professionals across different industries provides valuable insights and potential use cases to grow our business even further in the foreseeable future. 
In the end, we mainly focussed on becoming more active online and explaining everything we've built to businesses and end users. We had a photoshoot with the team and were able to interact a lot with our community to determine in what ways they think we can improve. For example, we received some interesting feedback on in-app personalization preferences from our community.
Q4 2022
In October we released the first version of our web3-powered loyalty & marketing platform for internal testing. Businesses that have agreed to test the portal got the chance to get familiar with the environment. They were able to test several things in the portal. For example, they could:
✅Create their own loyalty program

✅Design a branded loyalty card

✅Upload their branding assets 

✅Open up their loyalty store

✅Add community-exclusive deals

✅Schedule incentivized content campaigns

✅Set up a reward system with their own branded loyalty points
As usual, we continued to spread the word with social media presence and blog articles for more in-depth information. In October we published articles on the topics lifecycle marketing, blockchain in loyalty marketing strategies and employee & consumer rewards programs.
We continued publishing blog articles consistently, spreading even more awareness. And besides spreading awareness, our blogs serve another purpose. We've defined a clear SEO strategy for our website which is in line with our business strategy. As our website continues to improve, we're noticing steady organic growth in terms of traffic. Many of our blogs are now keeping our current following informed, but are also attracting a highly relevant audience through organic search in search engines worldwide. The blogs incentives for engaged customers, Shopify's 4 types of loyalty programs, mobile-first blockchain loyalty program, B2C email marketing and relationship marketing also helped contribute in this last quarter of the year. 
During this period we've overall been extremely focussed on gathering feedback for the Crowny App in the Alpha Testing phase. This has been the main priority for the entire team. We decided to share some small front-end updates with you all, one of which you can find right here. Most of our work, however, had to take place behind the scenes. We've kept our heads down and continued to work tirelessly on delivering a revolutionary platform of the highest quality we can achieve. 
To reward the entire community for their patience we decided to do a giveaway campaign for Christmas as well. Congratulations to the winners!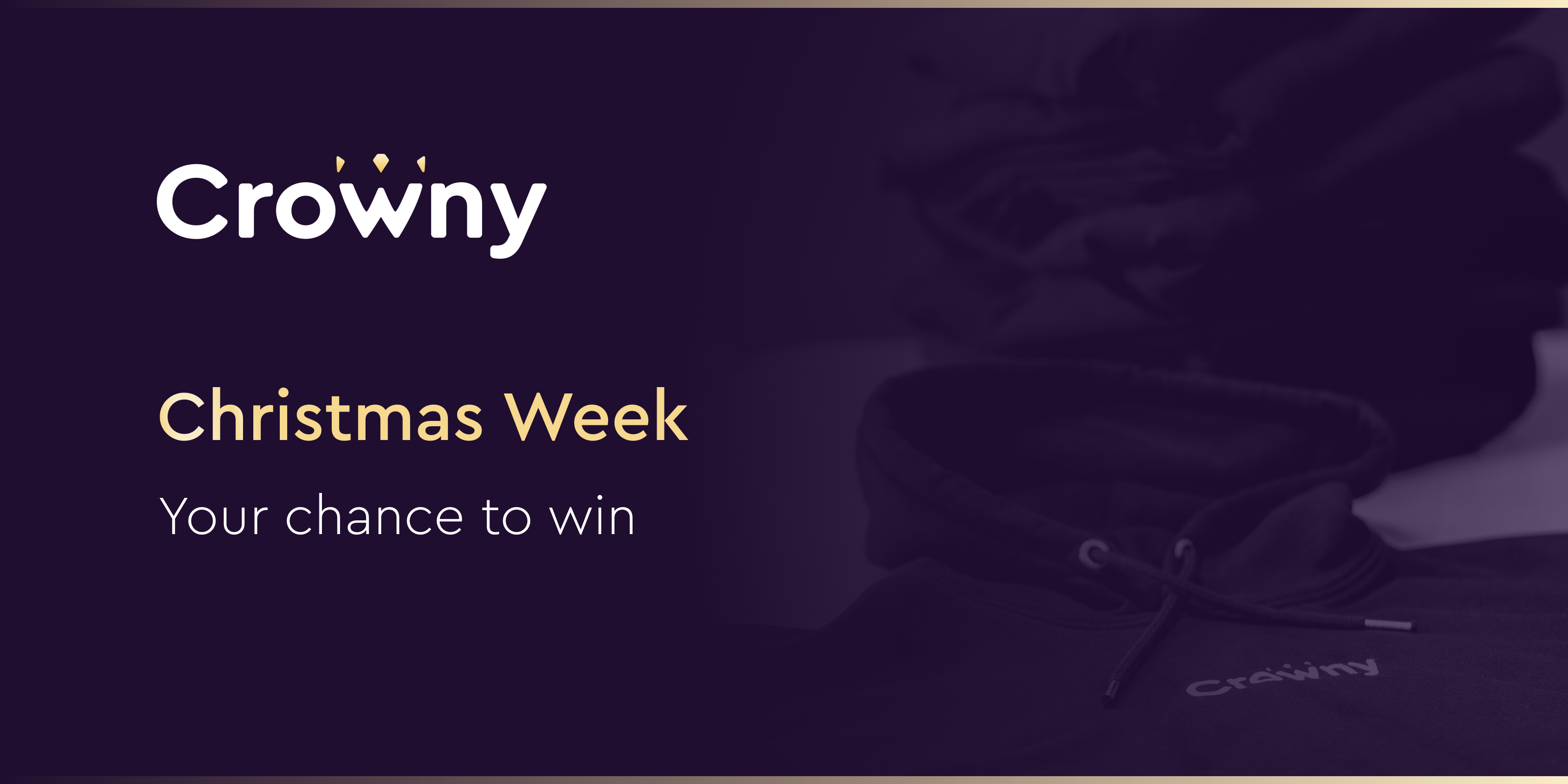 What's next?
We are about to release a special version of the Crowny App. This version is labelled 'special' because it is only meant for our select group of portal testers. With this app, they are able to preview the campaigns they created on their phone. This puts our testers in a better position to determine the look and feel of app users, which in turn provides us with better feedback. It also makes everything come to life even more, which besides being useful, is also a lot of fun! 
This version of the Crowny App has the sole purpose of testing the connection preview
We are extremely grateful for your continued support and are looking forward to a spectacular 2023. In this year we will (finally) be able to show our platform to the masses. We are counting on each other for the next year and remember to join us on our mission: "to reward business and users for every interaction!" 
Brands can get early access to the Crowny Platform here.