The second quarter of this year was a hectic one for the entire Crowny Team, but we are all extremely proud of what we have accomplished together. Are you curious? Continue reading below about the Crowny App, Portal and many other developments.
Crowny Portal Developments of Q2 2022
During this quarter, we had several businesses lined up to test our platform. We have gathered feedback and improved our platform during the process. We ensured that our portal became as user-friendly and results-driven as possible. This way it performs best when it's time to onboard the business' communities. Time will tell what brands we're talking about. We can't wait to start showcasing the platform we've been working on so passionately to everyone!
On our roadmap, it was stated that this quarter we would have the subscription packages for our SaaS solution ready. They are concluded and are being used in our private communication with businesses, we are just not exposing them yet. During the next quarter, we will finetune and publish the final version of the subscription packages on our website. This is a big step forward in the development and improvement of our online onboarding flow. After reaching this milestone an online portal demo becomes available for the public.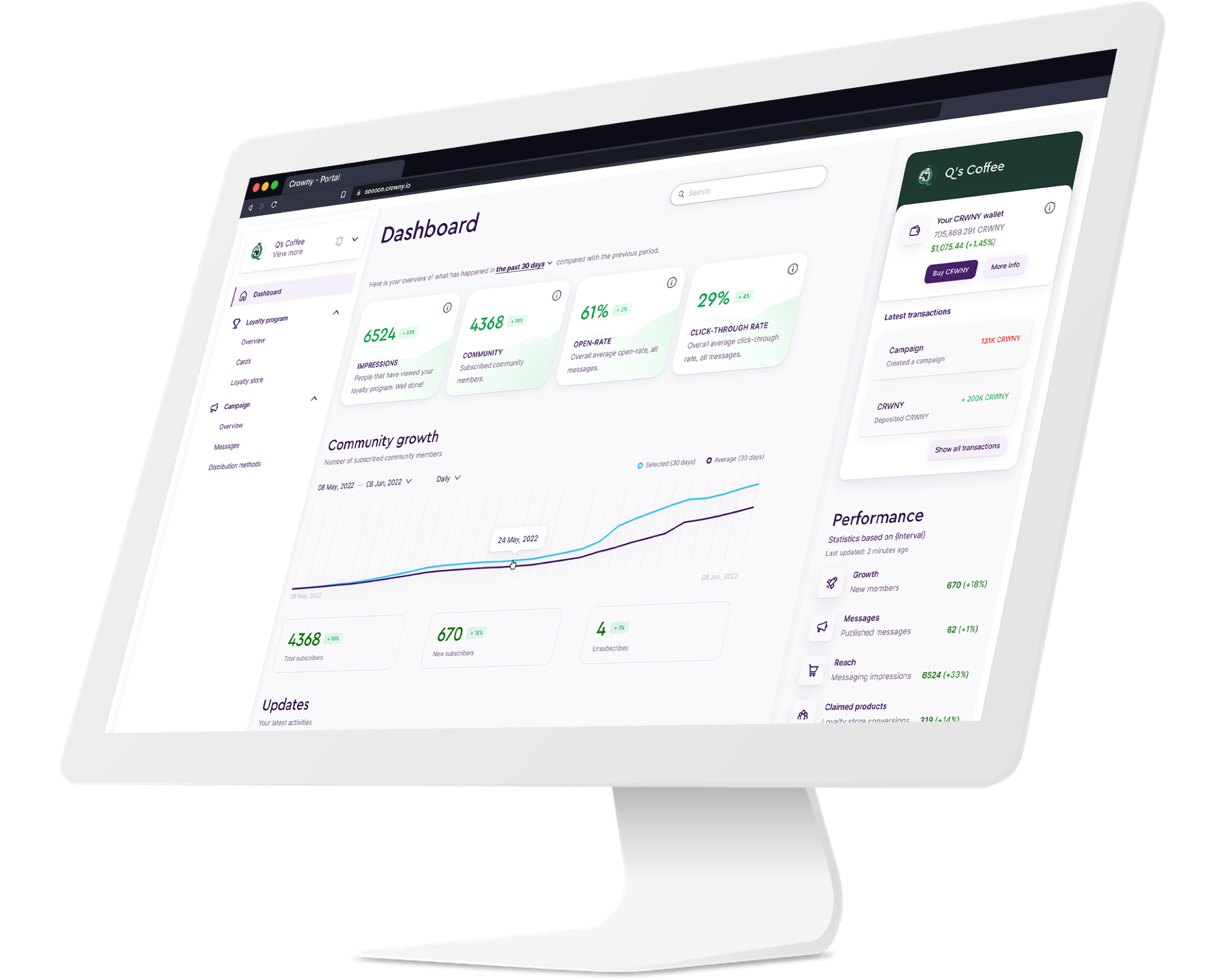 In the next month(s) we will internally onboard our partners, and make a one-on-one tour of the portal. Feedback from partners is important in determining future developments, so they can continue making their community thrive.
Crowny App Developments of Q2 2022
We developed and implemented the Crowny Wallet, a feature that offers a variety of benefits to our platform. To maximize the conversion of businesses onboarding their online community, the onboarding flow needs to be as easy and user-friendly as possible. When users access our app for the first time, e.g. when joining a loyalty program, there is no need to interact with a third-party wallet. All required actions can be performed in one single journey within the app. This ensures that the onboarding flow is as smooth and easy as possible, for non-crypto users, in particular.
Users that have completed the onboarding flow of the app can experience multiple benefits of the Crowny Wallet as well. The seamless integration of the wallet in our platform results in an improved user experience overall. Users are able to directly see and manage their assets, like branded loyalty points and $CRWNY tokens. In the long run, having our own in-app wallet gives us the flexibility to implement more wallet functionalities, like potential staking mechanisms, tailored to fit our platform and the needs of our business partners. 
Being independent of third parties ensures that all tokens will be as safe and accessible as possible. Controlling our development is necessary to always be able to improve our platform, ensure optimal integration with the business of our partners and keep our platform scalable.
Besides all the technical advantages our wallet offers, we made sure to make the user interface design visually appealing. We've been very precise and careful in making sure everything is as safe and smooth as it can, and should be. Here's how it looks.
The Discover functionality is developed and implemented along with the Crowny Wallet. Once a brand launches a branded loyalty program, it can be found easily in the Crowny App. Users can browse this section to find their favorite brands and join loyalty programs that are matching to their area of interest. Here is a preview of how it looks.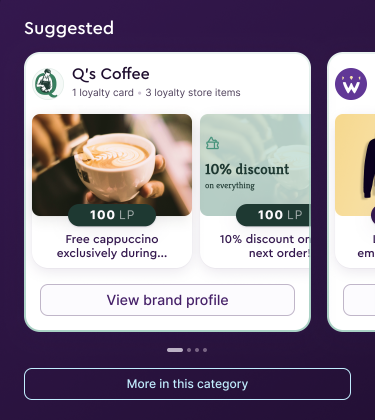 All this resulted in having the Crowny App ready for release. The Google Play Store has already accepted our app to be listed in their app store, but currently, the Crowny App is pending approval by the App Store. We look at it from the positive side, one is ready, and the other one is coming soon.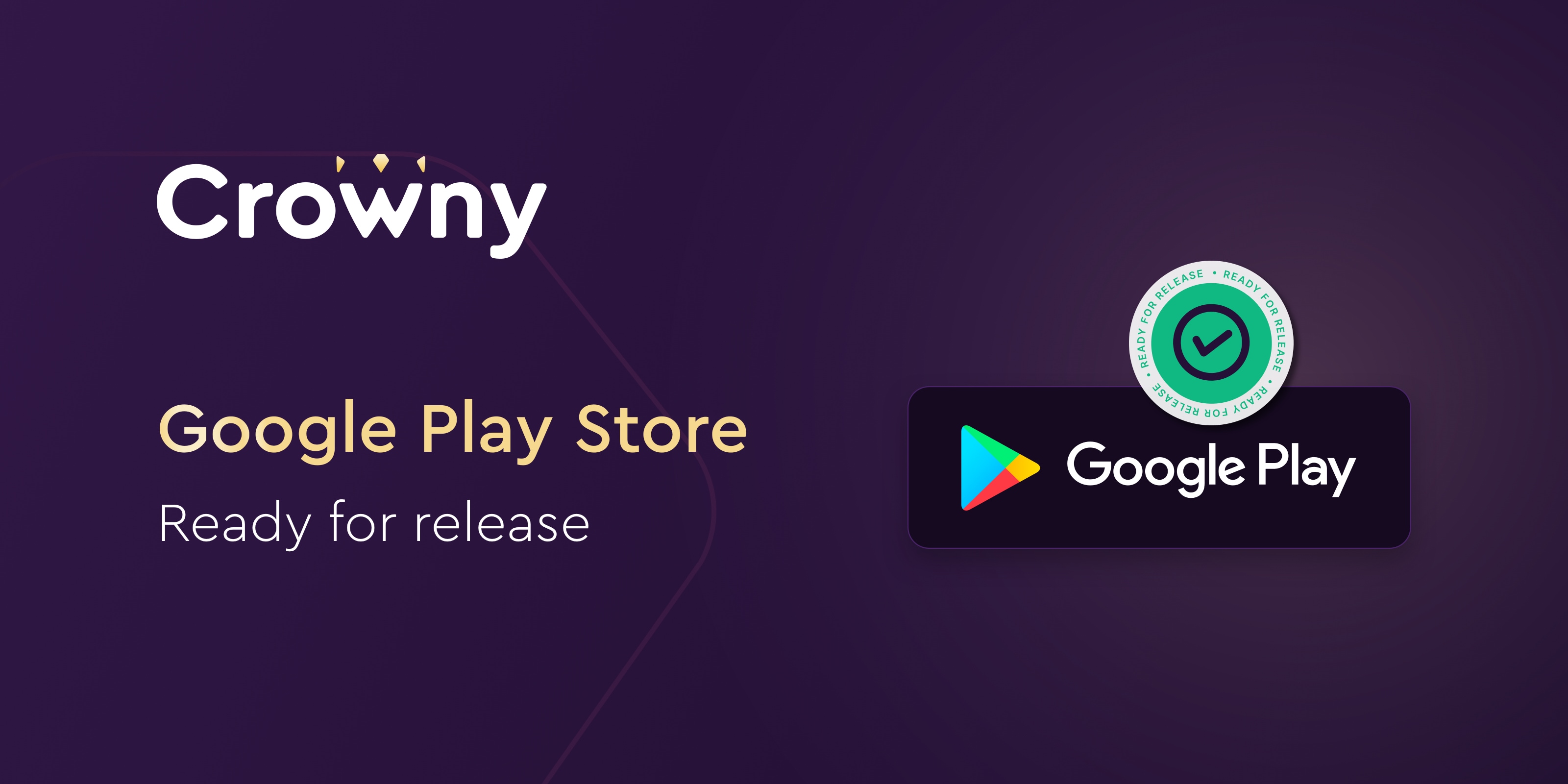 Website developments
We upgraded our branding with updated taglines, a refreshed logo and social images that are now available on the business- and home page of our website. We also published several blog posts, like this one. More updates are on the way.
As we are on the verge of releasing our platform, businesses are starting to line up to see what Crowny can offer them. Make sure to submit your work email here to get early access to the exclusive demo of our platform.