Discover key figures of $CRWNY, token utility and short-term prospects. Since migrating to Solana, we have been quietly building. Now it's our time to shine.
Updated tokenomics
Our circulating supply has been recently updated by CoinGecko. But that's not all: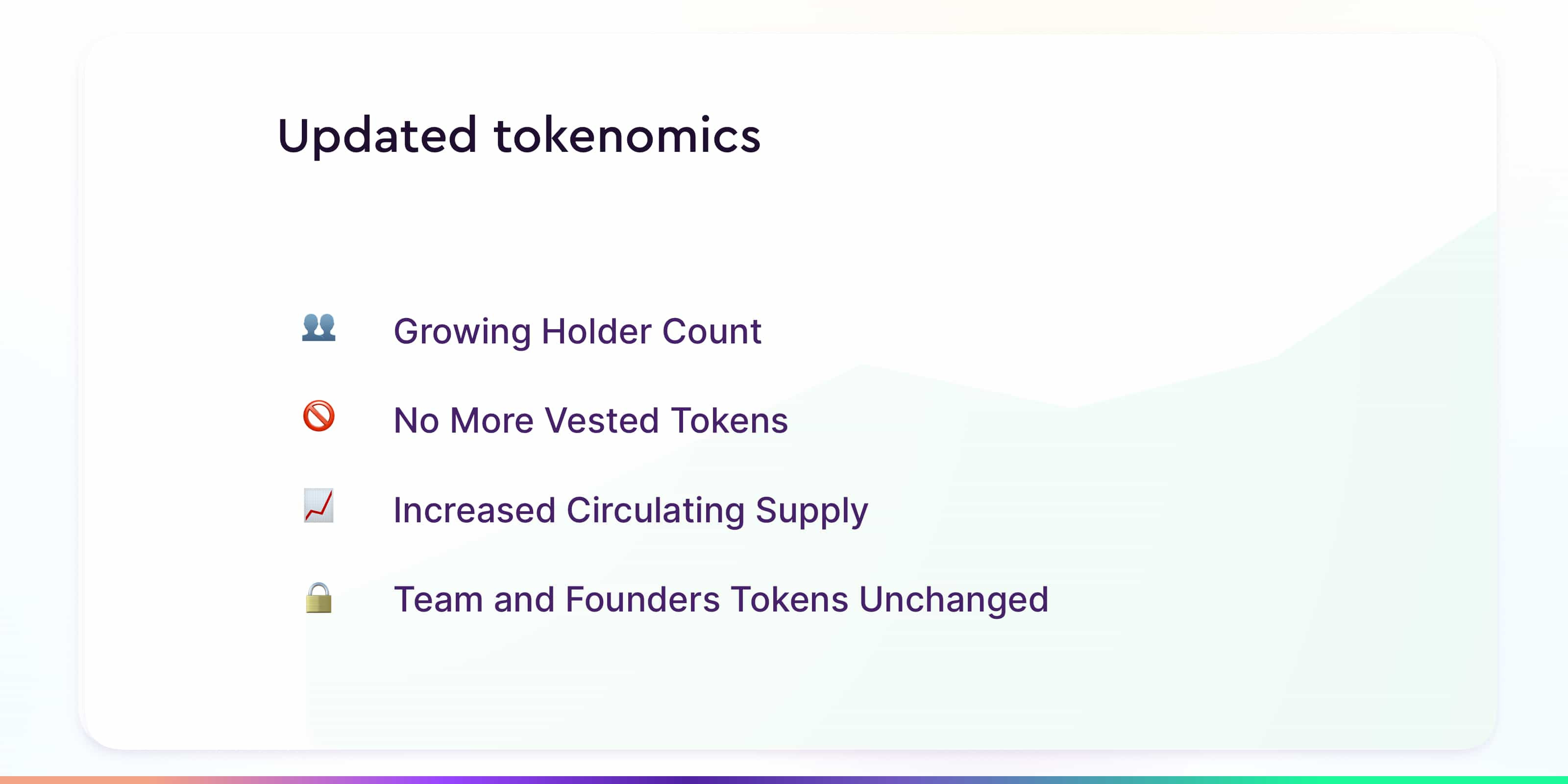 Here are key highlights for both new and prospective $CRWNY holders:
☑️ Growing holder count
Our holder count continues to grow steadily, excluding AscendEX holders.

☑️ No more vested tokens
There are no longer any vested tokens remaining from the previous seed and private sale. All tokens are either in circulation or held by investors.

☑️ Increased circulating supply
The circulating supply has expanded by 250 million tokens, signifying that nearly all tokens are now fully unlocked and a substantial portion is available/floating on the market.

☑️ Team and founders tokens unchanged
There have been no sales of "team/founders tokens". You can verify this information on-chain by examining our wallet on Solscan. 
As our circulating supply was updated on CoinGecko, providing transparency and accurate information for wider market participation, it's crucial to understand the broader context of $CRWNY's current status. Now, let's explore key facets such as market capitalization, pricing insights, and liquidity improvements to gain a comprehensive perspective on the token's evolving landscape.
Current state of $CRWNY
Let's break down the key facets that define the current state of $CRWNY. Please note that this data is time-sensitive. Find live data on CoinGecko.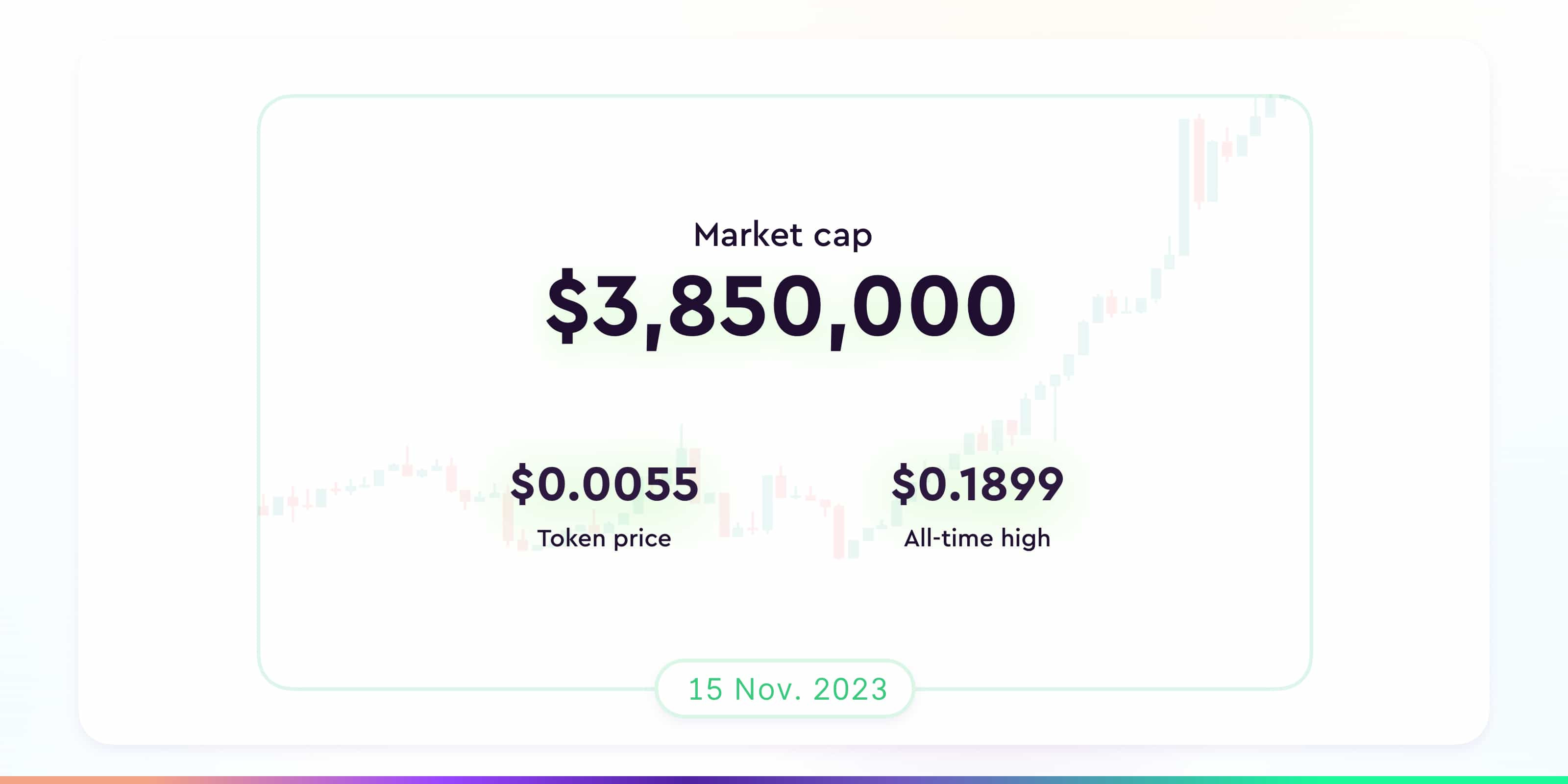 Current state of $CRWNY, key highlights:
☑️ Market capitalization
With $CRWNY's market capitalization at around $3,850,000, currently, the token can be categorized as a microcap (or officially a 'nanocap'). 

☑️ Pricing insights
With a price of $0.0055 at the time of writing and $CRWNY's ATH of $0.1899, there's still a relatively large multiplication required to break the historical high.

☑️ Liquidity improvement
Over time, $CRWNY has witnessed an increase in liquidity, indicating heightened market activity and participation.
Data from November 15th, 2023 - CoinGecko.
To discover $CRWNY's potential, let's explore its role. Besides speculation, the token will be influenced by its utility in the Crowny Platform.
Utility
The utility of $CRWNY extends far beyond the confines of a traditional token. As Crowny prepares for the release of the Crowny Platform and its web3 loyalty programs, the significance of $CRWNY becomes apparent. Here's the utility of the token explained in our visualized rewards flow, powered by Solana.
$CRWNY utility, key highlights:
☑️ Purchasing tokens of the market
Brands will be indirectly purchasing tokens to finance their campaigns in the platform on a monthly basis, depending on their subscriptions. 

☑️ Providing token budget
Crowny will be facilitating the token budget for campaigns within the Crowny Platform. We act as an intermediary in this process to relieve brands.

☑️ Brands reward community members
Community members earn rewards for participating in tailored campaigns, engaging with brand content and completing additional valuable actions as determined by the brand. Brands maintain a minimum reward amount. 

☑️ Users sell, swap, spend or hold
Once all functionalities are operational, users will be able to sell, swap, spend or hold their tokens. There's much potential for long-term holding incentives, and the token could serve as a medium for transactions within the platform.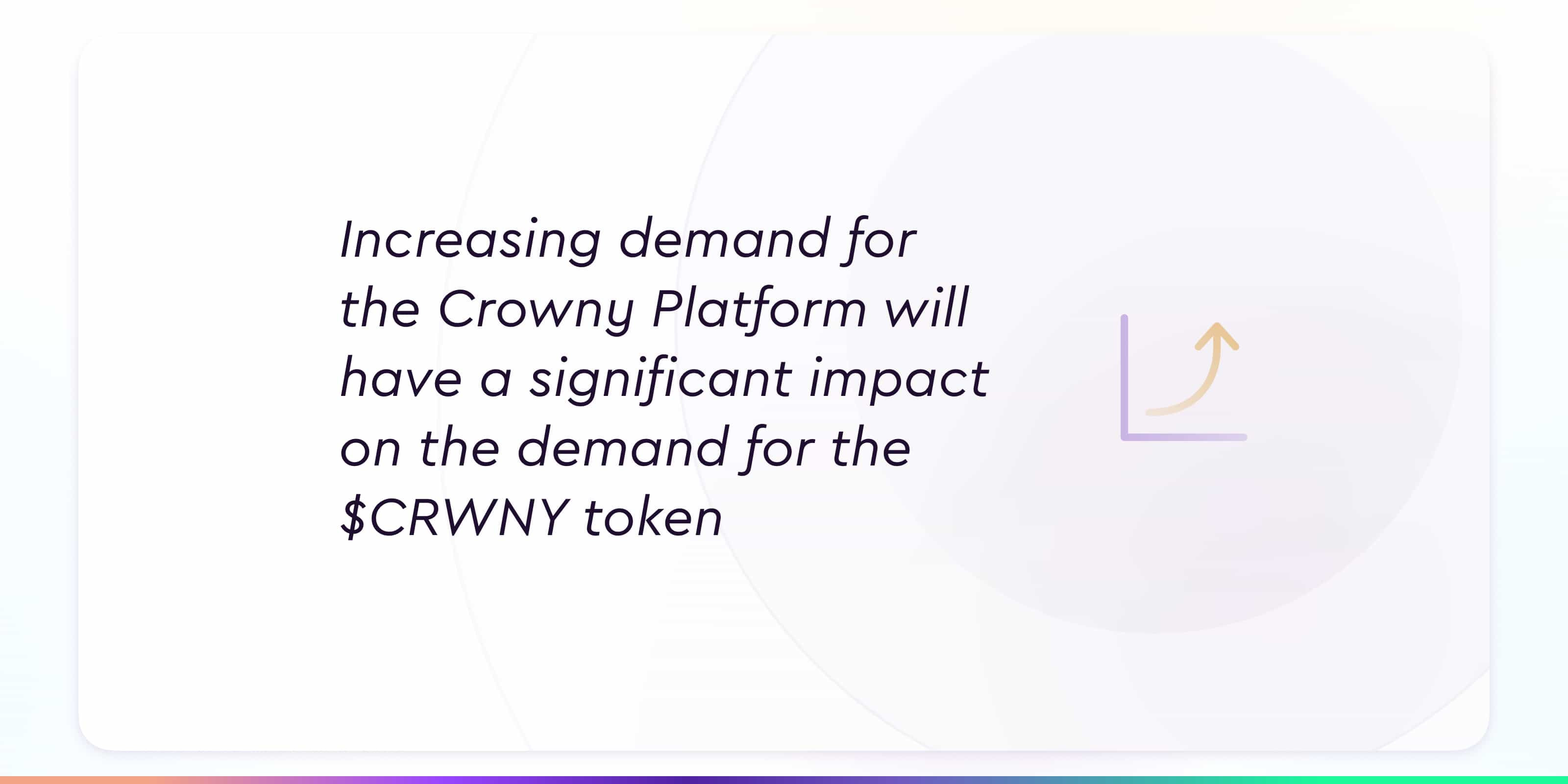 We can't emphasize enough: demand for the Crowny Platform will have a significant impact on the demand for the $CRWNY token. Its multifaceted utility creates a dynamic cycle of supply and demand and serves as a key component. The token will help drive user engagement, loyalty, and, subsequently, the overall success of the Crowny ecosystem.
Short-term prospects for $CRWNY
In our internal roadmap, we've carefully defined detailed next steps for $CRWNY. We will give you a limited peek behind the curtain. Keep in mind: this is the tip of the iceberg. 
Platform release
In our previous monthly recap, we mentioned that we have dedicated substantial time to testing and refining our platform. We're thrilled to officially announce the submission of our diverse apps to their respective platforms. 
Our various applications have been submitted to the:
✅ Google Play Store

✅ Apple App Store

✅ Shopify Store
We've learned to keep things under wraps until everything's set in stone, which is why we will not share a release date for the time being. Following approval, we'll conduct final tests in the production environment before starting our release campaign.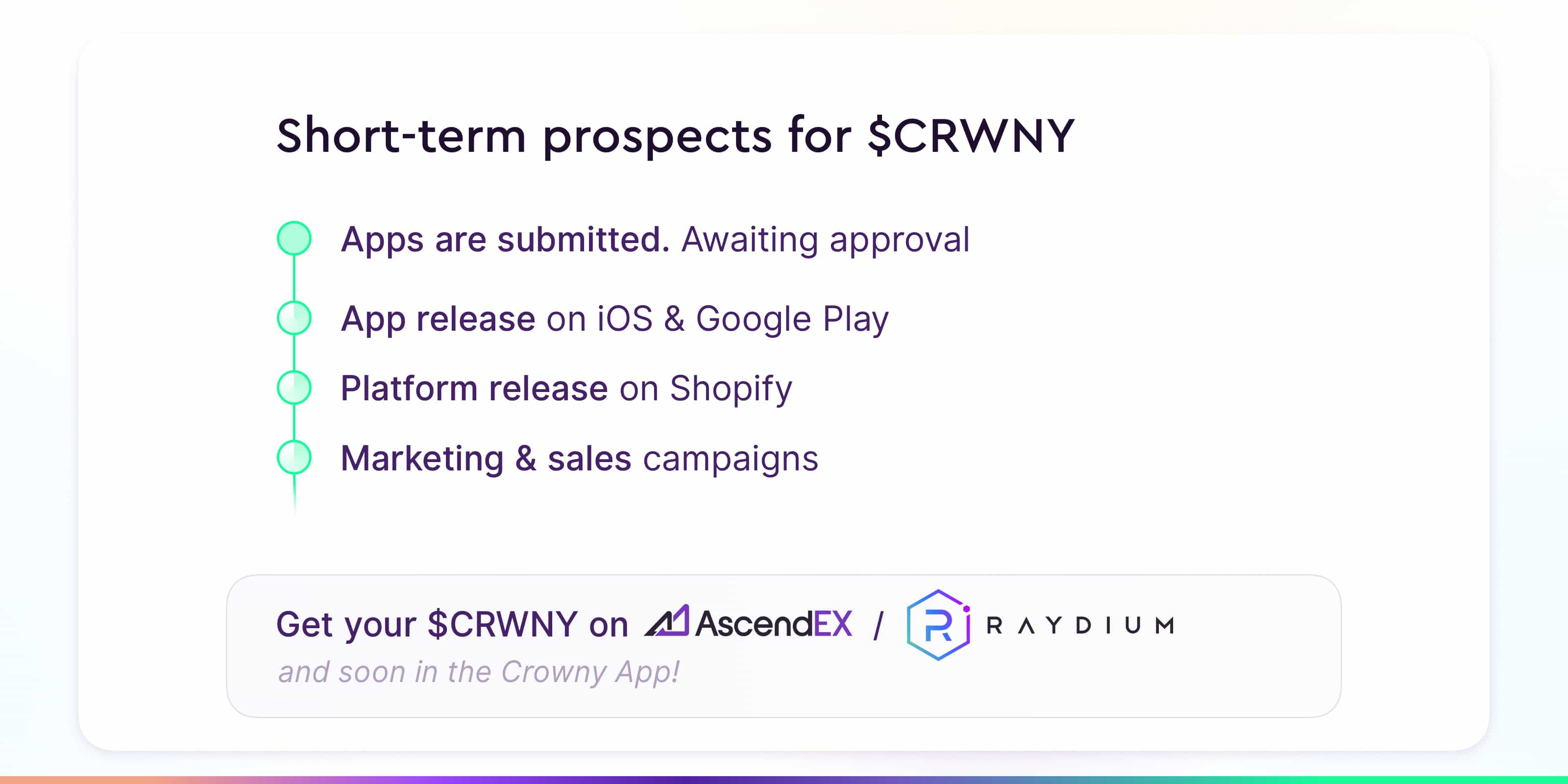 How to get $CRWNY
How can you get your hands on $CRWNY? You're not the only one asking. 
Get your $CRWNY on AscendEX (CEX), Raydium (DEX)
and soon in the Crowny App!