A recap of what happened for Crowny and the entire Crowny family in the month of September, 2021.
Where Are We Today?
Traditionally, the monthly update we would like to start with the biggest milestones achieved. In September Crowny launched the Loyalty Program, so you can join a loyalty program of your favorite brand, review the rewards offered, your transactions, and claimed rewards.
Yet another important update we are working on is the Solana migration, the migration date will be announced soon along with all the details you need to know. This is going to be the next milestone to hit for Crowny!!
Let us guide you through other events of the past month, it's definitely worth your attention.
What Happened In The Last Month?
✅ All the winners received an email with a personal invitation to access IOS or Android.
✅ The Crowny family is growing. Last month we welcomed new team members: Eric (online marketing), Djilano (lead front-end developer), and Inna (marketing & business development). Check out their profiles on the team page!
✅ Quincy Dagelet, the CEO of Crowny, was invited as a speaker to one of CM.com's events. There are more events to come, such as the Solana Ignition Hackathon in November.
✅ Launched the Crowny Loyalty Program Beta.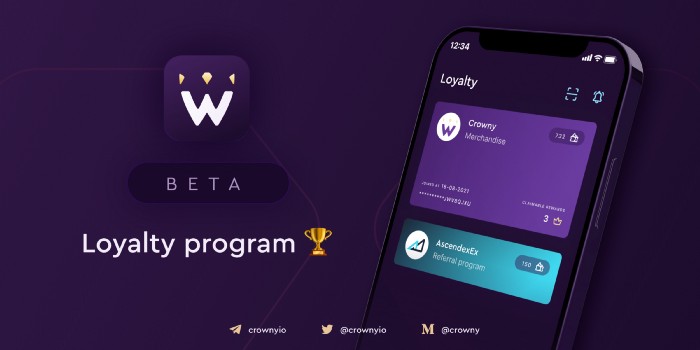 ✅ Crowny has started negotiations with a few more potential partners with huge potential and, of course, the best benefits for the community!
What To Expect For Next Month?
We are following the roadmap and this is our focus in October:
🔗 We expect to start the migration of the $CRWNY token to Solana in October.

📩 Notifications going live in the Crowny Beta.

📲 Gearing up for the official launch of the Crowny App.

🤝 Establishing partnerships with Solana-supported wallet providers.

👑 Updating our website and preparing for the Crowny portal launch.

👤 We are still hiring more exceptional people to join us, feel free to reach out if you want to become a part of the Crowny team. Check out our jobs.
Stay tuned for more updates and follow our social media, as you definitely don't want to miss what's coming next. Subscribe to our emails below!